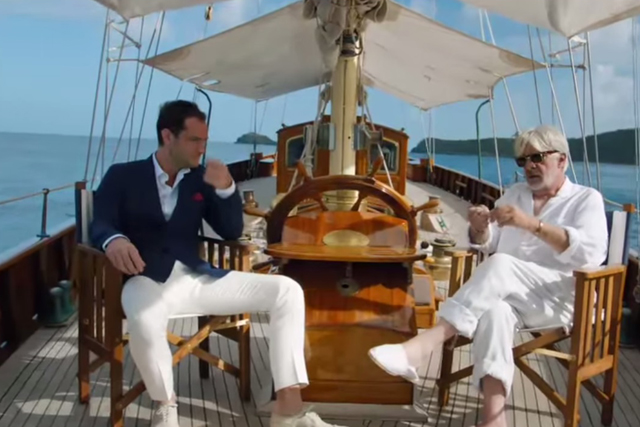 The six-minute spot by Anomaly New York and produced by RSA Films has been shared more than 21,000 times, putting it in ninth place, according to the video measurement specialist Unruly.
The film launched on Wednesday and features a suave Law dancing to win a rare luxury yacht.
An ad for the popular game 'Assassin's Creed Unity' enters the chart at number one with more than 117,000 shares, ahead of an ad for a Russian beer brand featuring the 'X Files' actor David Duchovny, which has been shared over 66,000 times in the past seven days putting it in second place.
Ads 30 days old or older are not included in the chart.
1. Assassin's Creed "assassin's creed unity meets parkour in real life - 4k!" by Devin Graham
117,256 shares this week | 241,222 shares all-time
2. Siberian Crown beer by Fresh Production, Moscow
66,550 shares this week | 66,550 shares all-time
---
3. BMW "the epic driftmob feat. bmw m235i" by The ID Agency
50,393 shares this week | 50,393 shares all-time
4. TD Bank "sometimes you just want to say thank you #tdthanksyou" by Leo Burnett, H+K and Diamond Integrated Marketing
50,124 shares this week | 50,124 shares all-time
5. Samsung "every day is day one - samsung - asp - surf" by 72andSunny, Amsterdam
49,803 shares this week | 65,612 shares all-time
---
6. adidas Basketball "boost changes everything" feat. derrick rose and damian lillard | adidas basketball 2014" by In house
25,905 shares this week | 25,905 shares all-time
7. League of Legends "league of legends cinematic: a new dawn" by In house
24,743 shares this week | 57,901 shares all-time
8. Beyond Blue "the invisible discriminator' - stop. think. respect." by Marmalade, Melbourne
24,395 shares this week | 24,395 shares all-time
9. Coca-Cola "johnnie walker blue label presents jude law in 'the gentleman's wager'" by Anomaly
21,988 shares this week | 21,988 shares all-time
---
10. coca-cola "adopción - comer juntos alimenta tu felicidad." by In House
20,458 shares this week | 20,906 shares all-time
---