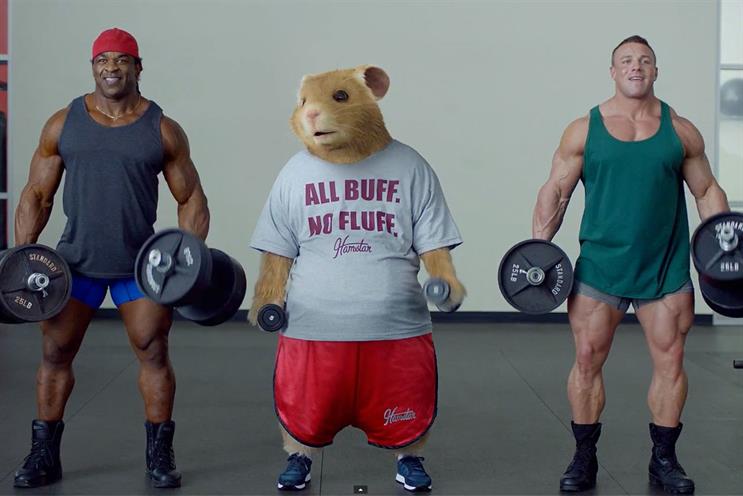 The ad, created by David & Goliath, features the hamsters, previously seen dancing to LMFAO's 'Party Rock Anthem', training in the gym before making a dramatic entrance at a red carpet event. It was shared 117,117 times this week.
In first place, Nike's inspirational "possibilities" ad, in which viewers are challenged to push the boundaries of what is possible, was shared 163,190 times this week.
The ad, created by Wieden & Kennedy Portland, rises from third place in last week's chart.
Elsewhere, Beats by Dre make its first-ever appearance in the chart, with Eminem joining Lady Gaga, Justin Bieber and Lil Wayne, as the latest artist to lend his name to the brand.
The ad, created by R/GA, was shared 25,203 times in the last seven days and has been viewed more than 740,000 times since it was published on YouTube earlier in the week.
The chart, ranked according to data from social video experts, Unruly, tracks the number of shares of ads across Facebook, Twitter and the blogosphere. Ads older than 30-days are not included.
1. Nike "possibilities" by Wieden & Kennedy Portland
163,190 shares this week
All time: 219,661 shares
2. Kia "applause" by David & Goliath
117,717 shares this week
All time: 135,623 shares
3. Nintendo "introduction" by Unknown
57,394 shares this week
All time: 67,631 shares
4. Head & Shoulders "Joel Santana em singing in the chuveration" by Africa
53,114 shares this week
All time: 57,511 shares
5. Blizzard "Diablo III" created in-house
46,694 shares this week
All time: 145,922 shares
6. Beats by Dre "Beats x Eminem" by R/GA
25,203 shares this week
All time: 41,142 shares
7. EA Sports "Fifa 14" created in-house
24,388 shares this week
All time: 79,961 shares
8. NBC Sports "an American coach in London" by The Brooklyn Brothers
19,425 shares this week
All time: 385,776 shares
9. Mountain Dew "human bungee slingshot by Devin Graham
17,296 shares this week
All time: 64,111 shares
10. Activision "Call of Duty: Ghosts" by 72andSunny
17,203 shares this week
All time: 211,461 shares
AUTOFEEDCAMVIRAL