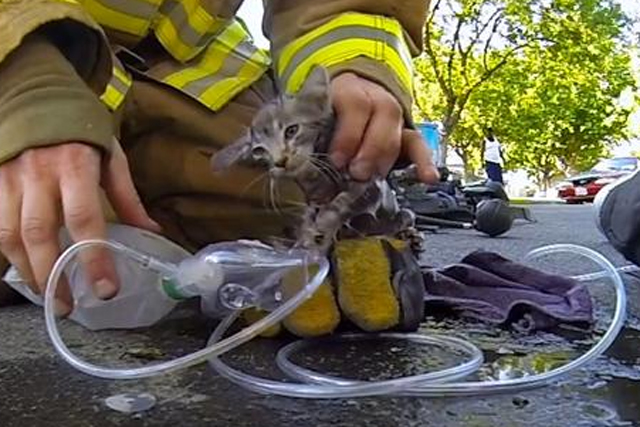 The ad, created in-house, uses the strapline "be a hero". It features a fireman carrying a seemingly lifeless kitten from a house fire and revive it with an oxygen mask.
The video was reportedly captured on a helmet-mounted camera. It follows the brand's previous viral success that featured supposedly amateur footage of a seagull's flight, filmed when the bird itself picked up a GoPro camera.
A second ad for GoPro appears fifth in the chart with more than 68,000 shares this week. The ad, also created in-house, uses first-person footage of BMX trial biking, surfing and a lion hugging a man, all shot on GoPros.
LG, the mobile phone and electronics manufacturer, also makes it onto the chart with an ad to promote the image stabilisation credentials of its smartphone cameras.
The ad, shared 62,741 times this week, parodies a product ad. Its protagonist talks directly to the audience about how he steadies his camera with a chicken whose head always remains stationary, independently of its body.
Mercedes-Benz's "magic body control" ad by Jung von Matt, which actually used a chicken to emulate its cars' suspension, moved up from fourth to second position after picking up 214,607 shares this week.
Meanwhile, TrueMove, the Thai telecoms operator that topped the chart two weeks ago, falls into eighth place with 61,660 shares in the past seven days.
The chart, ranked according to data collated by Unruly, ranks ads on YouTube by the number of shares across Facebook, Twitter and the blogosphere. Ads older than 30-days are not included.
1. GoPro "fireman saves kitten" created in-house
723,308 shares this week
All time: 1,026,096 shares
2. Mercedes Benz "chicken"" by Jung von Matt/Neckar
214,607 shares this week
All time: 387,174 shares
3. Samsung "+ Gear : official first hands-on" created in-house
124,561 shares this week
All time: 373,936 shares
4. Poo Pourri "girls don't poop" by The Harmon Brothers
123,196 shares this week
All time: 760,104 shares
5. GoPro "Hero3+ black edition" created in-house
68,139 shares this week
All time: 132,187 shares
6. Samsung "introducing Samsung Galaxy Note 3" created in-house
63,952 shares this week
All time: 452,315 shares
7. LG "the most extreme camera ever"
62,741 shares this week
All time: 64,218 shares
8. True Move "giving"
61,660 shares this week
All time: 1,182,291 shares
9. Chipotle "the scarecrow" by CAA Marketing
30,802 shares this week
All time: 390,377 shares
10. Phonebloks "phonebloks" created in-house
30,665 shares this week
All time: 983,828 shares
AUTOFEEDCAMVIRAL