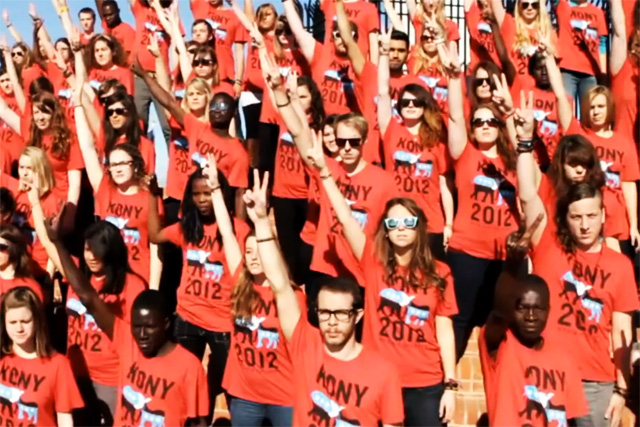 The 30-minute Kony film, an ad to raise public awareness of crimes committed by the Ugandan warlord Joseph Kony, has topped the chart for the past three weeks and has now been shared more than five times a second since it was published on 5 March.
Since last week, the film has attracted five million more views, taking its total to 84.3 million.
St. Patrick's Day, last Saturday, fuelled a boost of over 58,000 shares for Guiness's 'round up your mates' viral - shared 90,825 times in the last seven days and 144,410 overall.
An unashamedly low-budget ad for DollarShaveClub.com has re-entered the chart after disappearing from the rankings last week.
The ad, in which the founder of the no-frills shave supplies company proclaims his blades are 'f***ing great', clocked up a further 25,692 shares last week.
The chart, produced in conjunction with Unruly, ranks ads according to the number of times they have been shared on Facebook, Twitter and the blogosphere.
Ads launched more than 30-days ago are not included.
Due to technical issues with Twitter's API, shares from the social network were not included in the count.
1. Invisible Children Inc 'Kony 2012' created in-house
503,507 shares this week
All time: 8,647,645 shares

2. Guinness 'round up your mates' by AMV BBDO
81,893 shares this week
All time: 145,688 shares

3. DollarShaveClub.com 'our blades are f***ing great' created in-house
25,692 shares this week
All time: 138,387 shares

4. Hahn 'spill-proof beer' by Publicis Mojo, Sydney
21,625 shares this week
All time: 39,079 shares

5. Mercedes 'invisible Mercedes' by Jung Von Matt
20,607 shares this week
All time: 212,736

6. Angry Birds 'NASA announcement' created in-house
18,354 shares this week
All time: 64,100 shares

7. Ubisoft 'Assasin's Creed 3 reveal trailer' created in-house
17,054 shares this week
All time: 98,029 shares

8. Playstation 'cubs win' by Deutsh, LA
13,803 shares this week
All time: 65,140 shares

9. Via Marte 'comercial via marte Outono/Inverno 2012' by RBA Publicidade
9,133 shares this week
All time: 16,614 shares

10. Intel 'the daring temptation' by The Monkeys, Sydney
6,650 shares this week
All time: 6,933 shares