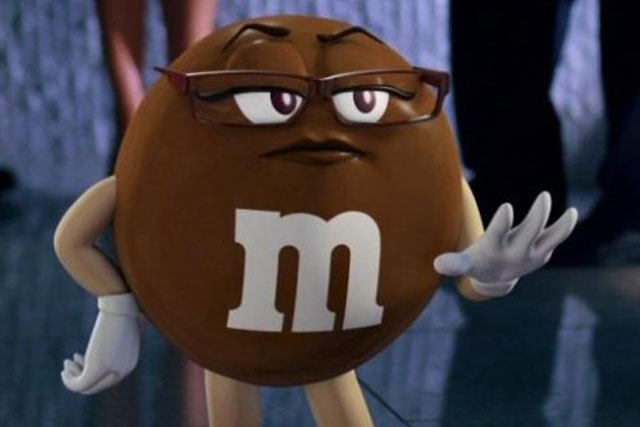 The "sexy and I know it" ad, which generated 42,788 shares across the social web this week, is the last Super Bowl ad remaining in the chart.
It beat last week's most shared ad, the Valentine's Google doodle by Saatchi & Saatchi, into eighth position.
An anti-Google ad by Microsoft, highlighting the limitations of Google Apps over its own Office package, was the fourth most shared, generating 5,780 shares in the past seven days.
Last week's third most shared ad, promoting wind energy from Ecotricity, has moved up to second place with more than 15,000 shares this week, whilst the controversial "boyfriend went vegan" ad from Peta climbed to sixth position.
The chart, produced in conjunction with Unruly, ranks ads according to the number of times they have been shared on Facebook, Twitter and the blogosphere.
Ads launched more than 30 days ago are not included.
Due to technical issues with Twitter's API, shares from the social network have not been included in this week's count.
1. M&Ms 'sexy and I know it' by BBDO, New York
42,788 shares this week
All time: 439,556 shares

2. Ecotricity 'collapsing cooling towers' by Man + Hatchet
15,857 shares this week
All time: 54,528 shares

3. Peugeot 'let your body drive?' by Havas International Media
10,473 shares this week
All time: 11,373 shares

4. Microsoft 'googlighting' created in-house
5,780 shares this week
All time: 5,792 shares

5. Purina 'inside every good dog is a great dog' by Leo Burnett
5,249 shares this week
All time: 10,228

6. Peta 'boyfriend went vegan' by Matter, USA
3,565 shares this week
All time: 19,919 shares

7. Clorox 'double impact' by DDB, San Francisco
3,540 shares this week
All time: 12,931 shares

8. Google 'Valentine's doodle' by Saatchi & Saatchi
3,515 shares this week
All time: 99,795 shares

9. Kayak 'brain surgeon' by Barton F. Graf 9000
3,455 shares this week
All time: 4,376 shares

10. Old Spice 'bounce' by Wieden & Kennedy
3,059 shares this week
All time: 72,199 shares