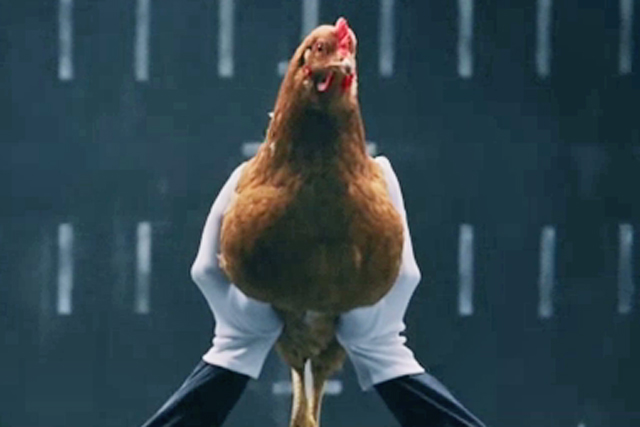 The Mercedes-Benz ad, "magic body control" by Jung von Matt/Neckar, shows white-gloved hands moving the chicken around. Despite its body going in different directions, the chicken's head does not move.
The ad enters the chart in number four and has been shared 92,860 times this week.
Another new entry was the seventh in the "Inside Chanel" series. The film tells the story of the designer brand's founder Gabrielle Chanel and has been shared 96,149 times this week, putting it in third place.
Poo-Pourri, a new product claiming to get rid of nasty toilet odours, has moved up to second place in the chart, but was not able to topple the heart wrenching ad from Thai phone operator TrueMove from the top.
In the light-hearted ad by The Harman Brothers, a glamorous woman in a fifties-style dress explains how if you spray Poo-Pourri before you go to the toilet, it will prevent you leaving any nasty smells behind.
A video to describe Phonebloks, Dave Hakkens' idea of how mobile phones should be built so they can be customised and repaired, remains in the list, although it has slipped from second to fifth place.
Ads for Samsung and Guinness, as well as LG's film featuring job applicants being scared by asteroids shooting towards them on realistic screens, also stay in the list from last week.
The chart, based on data provided by Unruly, ranks ads on YouTube by the number of shares across Facebook, Twitter and the blogosphere. Ads older than 30-days are not included.
1. TrueMove "giving" by unknown/in-house
280,822 shares this week
All time: 1,119,344 shares
2. Poo Pourri "girls don't poop" by The Harmon Brothers
230,912 shares this week
All time: 636,262 shares
It appears that this video is currently experiencing a data discrepancy, so please use these metrics with caution while our development team investigates.
Chanel "Gabrielle Chanel" created in house.
96,149 shares this week
All time: 114,778 shares
4. Mercedes-Benz "magic body control" by Jung von Matt/Neckar
92,860 shares this week
All time: 168,497 shares
5. "phonebloks" by Dave Hakkens
75,586 shares this week
All time: 952,528 shares
6. Chipotle "the scarecrow" by CAA Marketing
75,410 shares this week
All time: 359,054 shares
7. Chipotle "Samsung Galaxy Note 3 + gear: official first hands-on" by CAA Marketing
45,333 shares this week
All time: 250,657 shares
8. Samsung "introducing Samsung Galaxy Note 3" by in-house
42,553 shares this week
All time: 387,259 shares
9. Samsung "guinness basketball commercial" by BBDO New York
36,036 shares this week
All time: 530,251 shares
10. LG "ultra reality: what would you do in this situation?" by Superheroes
21,793 shares this week
All time: 596,637 shares
AUTOFEEDCAMVIRAL