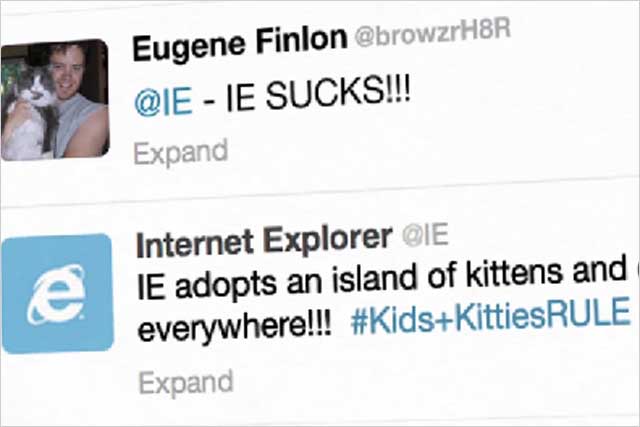 The ad has been viewed 1.9 million times since it was published and has been mentioned in 193 blog posts and more than 80,000 Facebook status updates.
For a third week in a row, "dumb ways to die" and ad for Metro Trains Melbourne created by McCann Melbourne is the most shared ad.
Shared, on average, more than 700,000 times a week since it hit the web, the ad gained most traction on Facebook with more than 2.2 million shares.
Meanwhile, an ad from The White House, in which the President's dog inspects the Christmas decorations has been shared 79,739 times.
The ad, created in-house, comes just weeks after the presidential election that saw Barack Obama return to the White House for a second term.
Further down the chart, Victoria Secret's lip-sync video follows Abercrombie & Fitch.
The ad, by Madoff Productions, is the fifth most shared with 67,456 and features Victoria Secret Models recreating Justin Bieber's "beauty and a beat".
To view the most-shared viral ads from previous weeks visit the Brand Republic viral video board on Pinterest.
The chart, produced in conjunction with Unruly, ranks ads according to the number of times they have been shared on Facebook, Twitter and the blogosphere.
Ads launched more than 30-days ago are not included.
1. Metro Trains Melbourne 'dumb ways to die' by McCann Melbourne
236,859 shares this week
All time: 2,298,803 shares
2. Rhett & Link 'how to kill a mustache' created in-house
204,450 shares this week
All time: 250,661 shares
3. The White House 'Bo inspects the Christmas decorations' created in-house
79,739 shares this week
All time: 83,194 shares
4. Microsoft 'do you know this guy?' by Universal McCann
78,908 shares this week
All time: 89,791 shares
5. Victoria Secret 'beauty and a beat' by Madoff Productions
67,456 shares this week
All time: 89,053 shares
6. Canadian Tourism 'keep exploring' by DDB
56,948 shares this week
All time: 158,578 shares
7. Justin Bieber 'Girlfriend official fragrance' by BBH LA
53,816 shares this week
All time: 277,547 shares
8. Crowdrise 'self-taught African teen wows MIT' by Radical Media
19,654 shares this week
All time: 212,507 shares
9. NBA 'Big: color' by Goodby Silverstein & Partners, USA
19,382 shares this week
All time: 128,113 shares
10. Canon 'inspired' by Grey NY
17,983 shares this week
All time: 57,413 shares
Follow @brproducers