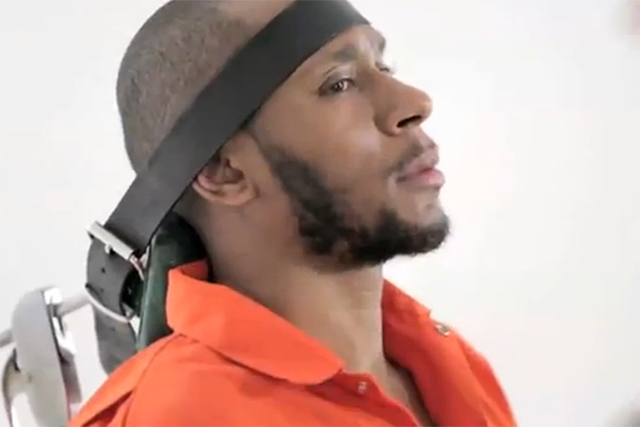 The hard-hitting ad for Reprieve, created by The Guardian, has been shared 87,566 times and has been viewed 4.5 million times since it was posted on Monday 8 July.
The four-minute film shows rapper and Hollywood star, Mos Def, being force-fed, using standard procedures employed in Guantanamo Bay against prisoners on hunger strike.
It ends with a push to Repreive's website and the hashtag #standfast.
First in the chart this week is Rockstar Games' release of official gameplay footage for the latest instalment in their 'Grand Theft Auto' franchise.
The ad, created in-house, promotes the release of GTA V in September and has been shared 386,793 times this week according to figures from social video expert, Unruly.
Honda's "hands" ad, the only agency-created ad in the top three, has been shared 166,160 times this week. It was created by Wieden & Kennedy London and has been viewed 3.5 million times.
Elsewhere in the chart, ads for Neverwet – the waterproof sealant – and Discovery Channel's "shark week", featuring 'Snuffy the seal' – remain in the chart for a third week.
The chart, produced in collaboration with Unruly, tracks the number of shares of ads across Facebook, Twitter and the blogosphere. Ads older than 30-days are not included.
1. Rockstar "Grand Theft Auto V" by In-house
386,793 shares this week
All time: 399,721 shares
2. Honda "hands" by Wieden & Kennedy, London
166,160 shares this week
All time: 289,872 shares
3. Reprieve "force fed" by The Guardian
87,566 shares this week
All time: 122,241 shares
4. Beneful "dog goldberg machine by beneful®" by Deep Focus
34,458 shares this week
All time: 67,445 shares
5. Dove "camera shy" by Ogilvy & Mather London
32,345 shares this week
All time: 56,475 shares
6. NeverWet "hands-on product demonstration" created in-house
22,214 shares this week
All time: 168,818 shares
7. Discovery Channel "Snuffy the seal" by Discoverycreative
20,907 shares this week
All time: 154,773 shares
8. Chanel "A/W 2013/14" created in-house
16,095 shares this week
All time: 51,073 shares
9. Samsung "the creative process" by Cheil UK
13,038 shares this week
All time: 16,952 shares
10. McDonald's "minion madness" by DDB
7,817 shares this week
All time: 29,948 shares
AUTOFEEDCAMVIRAL