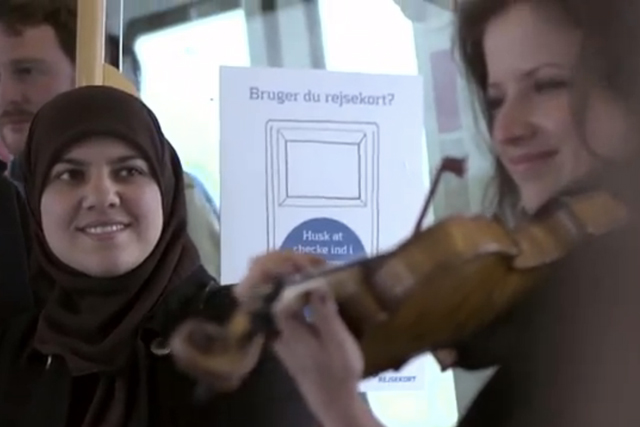 The ad of the Copenhagen Philharmonic performing on the city's metro fended off competition from Activision's 'Call of Duty: Black Ops 2 reveal trailer' and Carlsberg's Euro-inspired 'fan academy'.
Carlsberg's 'fan academy', featuring Brian Blessed, Linford Christie and Des Lynam, was shared 10,577 times on Facebook and across the blogosphere, after its debut last weekend, placing it third.
The controversial ad from Popchips, in which Holywood actor Ashton Kutcher portrayed an Indian Bollywood producer, has dropped out of the chart after only one week in 10th position.
Elsewhere, Burger King's latest commercial, starring Aerosmith's Steven Tyler, has been shared 4,436 times, despite Burger King preventing the video from being embedded on blogs, websites and social networks.
The chart, produced in conjunction with Unruly, ranks ads according to the number of times they have been shared on Facebook, Twitter and the blogosphere.
Ads launched more than 30 days ago are not included.
Due to technical issues with Twitter's API, shares from the social network were not included in the count.
1. Copenhagen Phil and Radio Klassisk 'flashmob in the Copenhagen Metro' by Makropol
17,067 shares this week
All time: 69,748 shares

2. Activision 'Call of Duty: Black Ops 2 reveal trailer' by 72andSunny
14,374 shares this week
All time: 141,989 shares

3. Carlsberg 'fan academy' by Fold7
10,390 shares this week
All time: 10,577 shares

4. Thinkbox 'Harvey and Rabbit' by The Red Brick Road
6,013 shares this week
All time: 19,015 shares

5. Jammie Dodgers 'a certain gooey thing' by VCCP
4,499 shares this week
All time: 7,038 shares

6. Burger King 'Steven Tyler commercial' by Mother
4,436 shares this week
All time: 32,920 shares

7. Volkswagen 'dad' by DDB UK
3,314 shares this week
All time: 3,357 shares

8. Samsung 'Brandon Jack' by Rebel Virals
3,168 shares this week
All time: 3,178 shares

9. Robopocalypse 'how to survive a robot uprising' by Epipheo Studios
1,647 shares this week
All time: 3,809 shares

10. Canadian Paralympic Committee 'unstoppable' by BBDO, Toronto
1,535 shares this week
All time: 7,525 shares