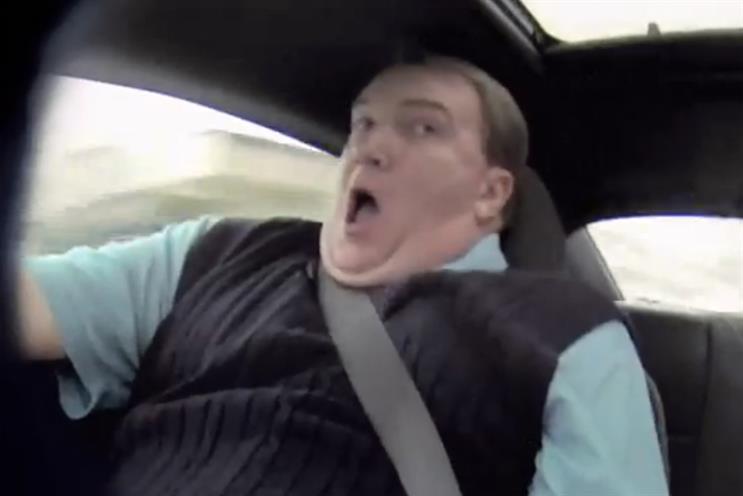 The ad, shared 1.4 million times this week, features Gordon, looking older with make-up and a fake beard, speed through the test-drive while salesman Steve holds on and attempts to slow the Nascar racer down.
Carlsberg continues the "hidden-camera" theme in this week's third most-shared ad, created by Duval Guillame Modem. The alcohol brand puts friendships to the test, seeing how far people will go to bail out their best friends. The ad was shared 106,867 times this week.
Elsewhere in the chart, viral favourite Old Spice entered in fourth position. The surreal ad by Wieden & Kennedy features a wolf "do marketing" for the brand's new Wild fragrances. The ad was shared 55,310 times.
To view the most-shared viral ads from previous weeks, visit the Brand Republic viral video board on Pinterest.
The chart, produced in conjunction with Unruly, ranks ads according to the number of times they have been shared on Facebook, Twitter and the blogosphere.
Ads launched more than 30-days ago are not included.
1. Pepsi "test drive" by TBWA\Chiat\Day
1,397,546 shares this week
All time: 1,518,468 shares
2. Three "#danceponydance" by Wieden & Kennedy
115,094 shares this week
All time: 902,110 shares
3. Carlsberg "Carlsberg puts friends to the test" by Duval Guillaume Modem
106,867 shares this week
All time: 115,216 shares
4. Old Spice "I meet the wolfdog" by Wieden & Kennedy
55,310 shares this week
All time: 57,060 shares
5. Miami Heat "harlem shake" created in-house
53,166 shares this week
All time: 1,517,901 shares
6. Microsoft Studios "Age of Empires ii HD edition" created in-house
52,591 shares this week
All time: 83,768 shares
7. The Simpsons/Fox "Homer shake" created in-house
36,164 shares this week
All time: 636,815 shares
8. Dead Man Down "elevator murder experiment" by Thinkmodo
33,842 shares this week
All time: 99,060 shares
9. Code.org "what most schools don't teach" created in-house
20,690 shares this week
All time: 685,168 shares
10. Domino's "???·???Domino's app feat. ?????" by Hakuhodo
15,693 shares this week
All time: 44,738 shares