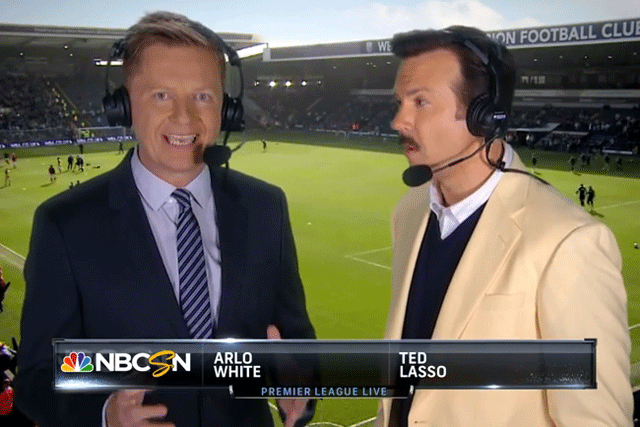 The six-minute spot by NBC Sports features the character of Coach Lasso, played by the actor, return for a second year to promote NBC's coverage of the Barclays Premier League. The channel introduced him last year in a popular online film.
The sports retailer Under Armour has made it into number two in the chart this week.
The ballet ad, featuring the American ballerina Misty Copeland, by Droga5 New York, features the star showcasing her awe-inspiring moves while voiceover reads a letter of rejection from a ballet academy.
The letter explains that at age 13, she is too old to be considered and also has the "wrong torso length, bust and body for ballet". The strapline reads: "I will what I want." The ad has been shared nearly 40,000 times in a week.
Johnnie Walker's film starring Jude Law remains popular. It has jumped two places to number seven after being shared over 14,000 times in the past seven days.
The chart is complied by Unruly and ads 30-days-old or older are not included.
1. NBC Sports "the return of coach lasso: nbc sports premier league film featuring jason sudeikis" by The Brooklyn Brothers, New York
48,708 shares this week
---
2. Under Armour "misty copeland - i will what i want" by Droga5, New York
39,961 shares this week
---
3. General Mills "new peanut butter cheerios presents: #howtodad" by Tribal Worldwide, Toronto
38,368 shares this week
---
4. Banco Espirito Santo "rádio comercial | como ficou a dona inércia" by In House
37,968 shares this week
---
5. adidas "instinct takes over -- #predatorinstinct -- adidas football" by In House
31,249 shares this week
---
6. Johnnie Walker "johnnie walker blue label presents jude law in 'the gentleman's wager'" by Anomaly New York And RSA Films
14,711 shares this week
---
7. Adidas "boost launch event highlights feat. derrick rose & damian lillard | adidas basketball 2014" by in house
12,604 shares this week
---
8. Toyota "swagger wagon ft. busta rhymes | 2015 toyota sienna" by
Saatchi and Saatchi LA
9,709 shares this week
---
9. "assassin's creed unity meets parkour in real life - 4k!" by
Devin Graham
9,373 shares this week
---
10. "'the invisible discriminator' - stop. think. respect." by
Marmalade, Melbourne
6,988 shares this week
---