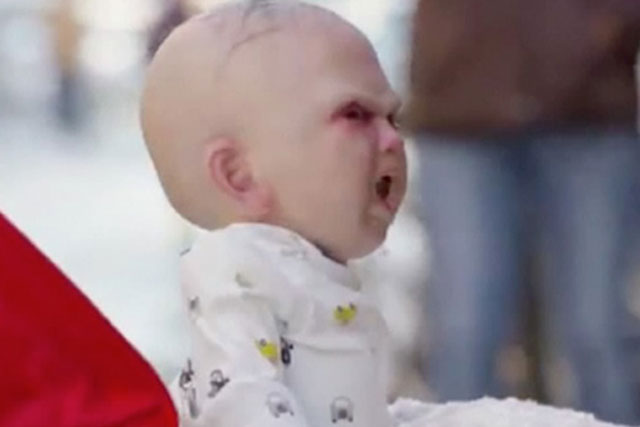 The ad, created by Thinkmodo NY, films unsuspecting New Yorkers approaching a lonely pushchair. When they get close enough, an animatronic baby is remotely controlled to sit up and scream.
The prank ad follows a string of similar hidden-camera stunts by Thinkmodo for 20th Century Fox, including work for 'The Walking Dead', in which actors dressed as zombies walk around New York, and for the recent remake of 'Carrie'.
Elsewhere in the chart, Axe, the deodorant brand known as Lynx in the UK, enters the chart with its Super Bowl ad "make peace, not war".
The 60-second ad created by Bartle Bogle Hegarty was shared 99,156 times this week and is one of the most-shared of the Super Bowl ads this year so far.
Procter & Gamble's "pick them back up" ad for this year's Winter Olympic Games in Sochi has hung onto its place in the most-shared listings for a third week.
The ad was created by Wieden & Kennedy and leads three ads made by the agency in this week's chart.
Sony and Old Spice ads, placed in eighth and tenth position respectively, were also made by Wieden & Kennedy.
The chart, collated by Unruly, ranks ads on YouTube by the number of shares across Facebook, Twitter and the blogosphere. Ads older than 30 days are not included.
1. 20th Century Fox "devil baby attack" by Thinkmodo NY
1,086,482 shares this week
All time: 1,874,965 shares
2. Omaze "arnold works at Gold's" created in-house
139,360 shares this week
All time: 139,360 shares
3. Duracell "trust your power" by Saatchi & Saatchi, New York
119,744 shares this week
All time: 285,169 shares
4. Axe "make love, not war" by BBH
99,156 shares this week
All time: 100,913 shares
5. P&G "pick them back up" by Wieden & Kennedy
45,624 shares this week
All time: 513,789 shares
6. Beats by Dre "hear what you want"
35,482 shares this week
All time: 35,597 shares
7. Guinness "sapeurs" by AMV BBDO
34,991 shares this week
All time: 54,800 shares
8. Sony "join together" by Wieden & Kennedy
30,713 shares this week
All time: 31,757 shares
9. Puma "evopower" by Juliet Zulu
28,514 shares this week
All time: 28,514 shares
10. Old Spice "mom song" by Wieden & Kennedy, Portland
25,397 shares this week
All time: 355,098 shares
AUTOFEEDCAMVIRAL