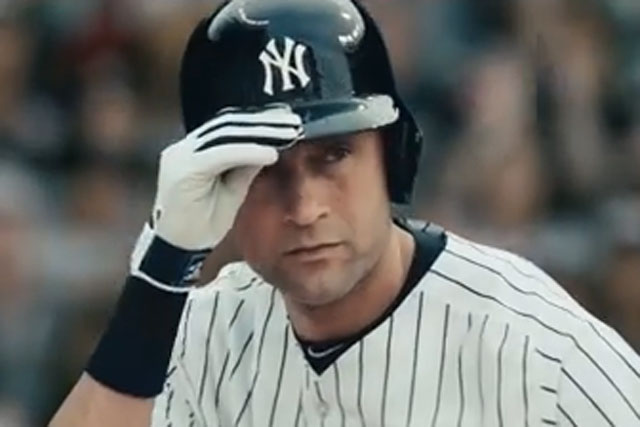 The ad "re2pect" by Wieden & Kennedy features proud New Yorkers among celebs, from comedian and actor Billy Crystal, to film director Spike Lee, tipping their hats as a mark of respect to the retiring New York Yankees baseball star Derek Jeter.
While the Fifa 2014 World Cup might be one to forget for many, others are still basking in its glory by watching Adidas' "the final" by TBWA\Chiat\Day Los Angeles and Bayern 3's "Germany is the World Cup winner in Brazil" ad, which are in the number two and four spots respectively.
The Always "#LikeAGirl" ad by Leo Burnett remains in the chart at number three, while a tantalising ad for the Showtime series 'Masters of Sex' by the director Tatia Pilieva makes a new entry at number five.
The chart is collated and ranked based on data provided by Unruly. It lists ads on YouTube by the number of shares across Facebook, Twitter and the blogosphere. Ads older than 30 days are not included.
1. Nike Jordan "re2pect" by Wieden & Kennedy
302,743 shares this week | 5,229,180 all-time views
---
2. adidas "the final" by TBWA\CHIAT\DAY LA
181,250 shares this week | 18,600,217 all-time views
---
3. Always "#likeagirl" by Leo Burnett
100,405 shares this week | 48,445,346 all-time views
---
4. Bayern 3 "germany is the worldcup winner in brazil" by in-house
84,455 shares this week | 16,386,723 all-time views
---
5. Masters of Sex "undress me" by Tatia Pilieva
67,468 shares this week | 8,524,590 all-time views
---
6. Greenpeace "lego: everything is not awesome" by Don't Panic
54,538 shares this week | 4,538,410 all-time views
---
7. DTAC "the power of love" by Y&R Thailand
54,310 shares this week | 11,017,220 all-time views
---
8. Paramount Pictures/MGM/ESPN "hercules movie" by In-house
47,448 shares this week | 158,541 all-time views
---
9. ESPN "this is sportscenter - metallica" by in-house
47,259 shares this week | 685,228 all-time views
---
10. BMW "bMW m4 - "ultimate racetrack" by Cundari
40,246 shares this week | 3,735,119 all-time views
---