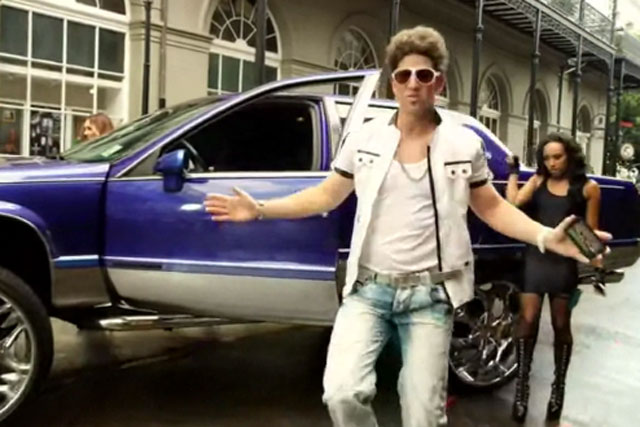 The ad, created by Grey NY, promotes the broadcaster's coverage of the NFL Football League and features American football stars Eli and Payton Manning rapping to sell DirecTV's mobile streaming package.
Continuing the football theme, Jason Sudekis, the star of America's 'Saturday Night Live' weekly comedy show on NBC, appears in an ad for NBC Sports' coverage of the British Premier League.
The ad, created by The Brooklyn Brothers, was shared more than 125,000 times.
In second place this week, an ad for online feminine supplies subscription service, HelloFlo, was shared 127,883 times.
Created by BBDO, the ad sees a bossy pre-teen girl coaching her fellow camp-mates through their first periods and becoming the self-proclaimed "camp gyno" before being usurped by HelloFlo's monthly subscriptions.
The chart, produced using figures from Unruly, tracks the number of shares of ads across Facebook, Twitter and the blogosphere. Ads older than 30-days are not included.
1. DirecTV "football on your phone" by Grey NY
185,976 shares this week
All time: 337,154 shares
2. Helloflo "the camp gyno" by BBDO
127,883 shares this week
All time: 144,825 shares
3. NBC Sports "an American coach in London" by The Brooklyn Brothers
125,394 shares this week
All time: 255,839 shares
4. Jordan "blake and drain" by Wieden & Kennedy New York
91,481 shares this week
All time: 99,646 shares
5. Oakley "dreamland" created in-house
78,604 shares this week
All time: 244,948 shares
6. British Airways " a ticket to visit mum" by Text100
48,107 shares this week
All time: 104,369 shares
7. Adidas "the new speed of light" by Iris
20,738 shares this week
All time: 56,035 shares
8. Rockstar "GTAV" created in-house
9,937 shares this week
All time: 703,854 shares
9. Louis Vuitton "behind the scenes" created in-house
8,618 shares this week
All time: 16,177 shares
10. Kmart "my limo" by DraftFCB
6,184 shares this week
All time: 25,872 shares
AUTOFEEDCAMVIRAL