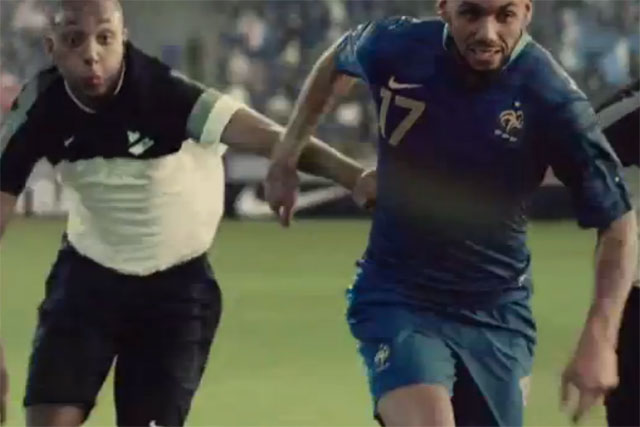 The ad, which invites users to 'find the tunnels', has now been watched more than 12.5 million times since it was published last Friday (18 May).
A second ad from Nike's 'My time is now' campaign, in which footballer Mario Balotelli searches for an iconic hairstlye, is in third place with 38,888 shares.
Both videos end with an interactive call to action, driving users to click through to more Nike content across the web.
Following earlier viral success with 'Obamaville', US presidential hopeful Mitt Romney again enters the chart with another election video outlining his plans from 'day one' in office.
The ad, attacking Obama on job creation and healthcare, has been viewed just under half a million times and has been shared 23,573 times this week.
Top of the chart last week, an ad for Copenhagen Philharmonic has fallen out of the chart this week with just 5,495 shares.
The chart,
produced in conjunction with Unruly
, ranks ads according to the number of times they have been shared on Facebook, Twitter and the blogosphere.
Ads launched more than 30 days ago are not included.
Due to technical issues with Twitter's API, shares from the social network were not included in the count.
1. Nike 'my time is now' by Wieden & Kennedy London
585,286 shares this week
All time: 624,704 shares

2. Pepsi Max 'uncle Drew'
69,980 shares this week
All time: 71,760 shares

3. Nike 'Mario Balotelli' by Agence Leg, France
38,888 shares this week
All time: 40,069 shares

4. Leap 'introducing the leap'
24,919 shares this week
All time: 25,550 shares

5. Mitt Romney 'day one' created in-house
23,573 shares this week
All time: 23,575 shares

6. Samsung 'Galaxy S III' created in-house
9,918 shares this week
All time: 41,271 shares

7. Samsung 'Beckham plays Beethoven' by Cheil, USA
6,477 shares this week
All time: 6,772 shares

8. Carlsberg 'fan academy' by Fold 7
6,249 shares this week
All time: 15,149 shares

9. Flying Horse 'cat toast' by Ogilvy & Mather, Brazil
5,804 shares this week
All time: 22,660 shares

10. Jammie Dodgers 'a certain gooey thing' by VCCP
5,776 shares this week
All time: 11,395 shares