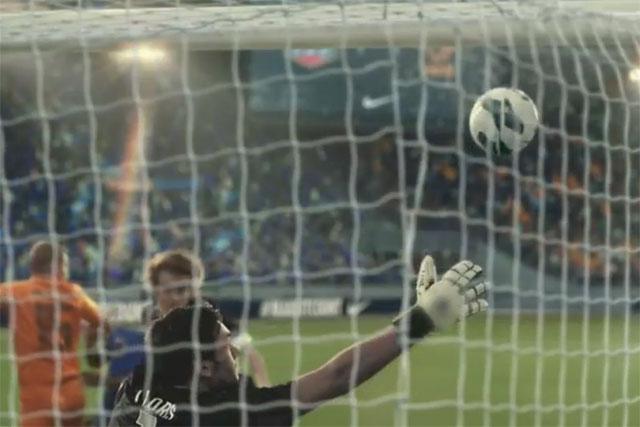 The ad, which displays stats to users who click on featured footballers, was shared just 50,333 times this week, following 585,286 shares after its launch the previous week.
A second ad from the same Nike campaign, featuring footballer Mario Balotelli, also fell through the chart from third to sixth position.
Meanwhile, the film of a flashmob on the Copenhagen Metro, promoting the city's philharmonic orchestra, re-entered the chart in 10th position, just two weeks after it secured the top spot.
Pepsi retained second place with its "uncle Drew" ad, while a Samsung ad, in which David Beckham plays Beethoven's Ode to Joy by kicking a football at a wall of drums, rose through the chart from seventh to fourth position.
The chart, produced in conjunction with Unruly, ranks ads according to the number of times they have been shared on Facebook, Twitter and the blogosphere.
Ads launched more than 30 days ago are not included.
Due to technical issues with Twitter's API, shares from the social network were not included in the count.
1. Nike 'my time is now' by Wieden & Kennedy London
50,333 shares this week
All time: 676,182 shares

2. Pepsi Max 'uncle Drew'
43,636 shares this week
All time: 116,629 shares

3. Leap 'introducing the Leap' created in-house
9,722 shares this week
All time: 35,436 shares

4. Samsung 'Beckham plays Beethoven' by Cheil, USA
8,274 shares this week
All time: 15,478 shares

5. DC Shoes 'Gymkhana four' created in-house
5,766 shares this week
All time: 9,973 shares

6. Nike 'Mario Balotelli' by Agence Leg, France
5,390 shares this week
All time: 45,596 shares

7. San Miguel ''#lacanciondeSanMiguel' by SCPF, Barcelona
4,890 shares this week
All time: 4,907 shares

8. Philips 'dein bart fur Deutschland' by Ogilvy & Mather, Dusseldorf
4,725 shares this week
All time: 5,204 shares

9. Samsung 'Galaxy S III' created in-house
3,761 shares this week
All time: 45,131 shares

10. Copenhagen Phil 'flashmob on the Copenhagen Metro' by Makropol
3,176 shares this week
All time: 77,612 shares