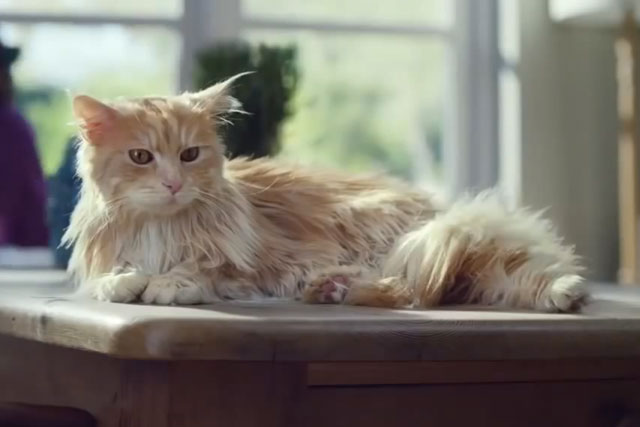 The ad by VCCP has made a slow start online, entering the chart for the first time last week after launching in early July. However, it has been shared 31,701 times this week, enough for it to sit at the top of the list.
In second place, an ad for Rockstar Games' latest instalment of the 'Grand Theft Auto' videogame series dropped from first place to second after being shared 24,140 times in the past seven days.
The official gameplay video ad, created in-house, has topped the chart for the past two weeks and has now been shared well over half a million times since it was published on YouTube.
Honda's "hands" ad, which was in second place last week, has fallen out of this week's rankings. But the auto brand has re-entered with a branded video called "mean mower", produced by Top Gear Magazine.
The video features touring car champion Gordon Sheddon and has been shared 4,937 times this week, making eighth place, according to figures from social video expert Unruly.
Meanwhile, GoPro, the seasoned Viral Chart veterans and wearable camera specialists, has entered the list to make six viral chart appearances in total.
The camera brand found itself in the middle of an authenticity debate when allegedly amateur footage of a seagull in flight filmed on one of its products was released on the internet. Some observers thought the footage was a marketing hoax.
The chart, produced in collaboration with Unruly, tracks the number of shares of ads across Facebook, Twitter and the blogosphere. Ads older than 30-days are not included.
1. O2 "be more dog" by VCCP
31,701 shares this week
All time: 145,394 shares
2. Rockstar "GTAV" created in-house
24,140 shares this week
All time: 533,504 shares
3. Coca-Cola "smile back" by Victors & Spoils
21,470 shares this week
All time: 31,260 shares
4. Razor "crazy cart" created in-house
12,082 shares this week
All time: 67,891 shares
5. Chevrolet "her horse" by Commonwealth
9,607 shares this week
All time: 13,682 shares
6. Microsoft "Surface RT vs. iPad" by Crispin Porter & Bogusky
9,198 shares this week
All time: 16,486 shares
7. Heineken "departure roulette" by Wieden & Kennedy New York
6,163 shares this week
All time: 69,012 shares
8. Honda "mean mower" by Top Gear Magazine
4,937 shares this week
All time: 32,287 shares
9. GoPro "Chicken the dog" created in-house
4,785 shares this week
All time: 12,118 shares
10. Johnnie Walker "Bruce Lee" by BBH China
2,757 shares this week
All time: 39,595 shares
AUTOFEEDCAMVIRAL