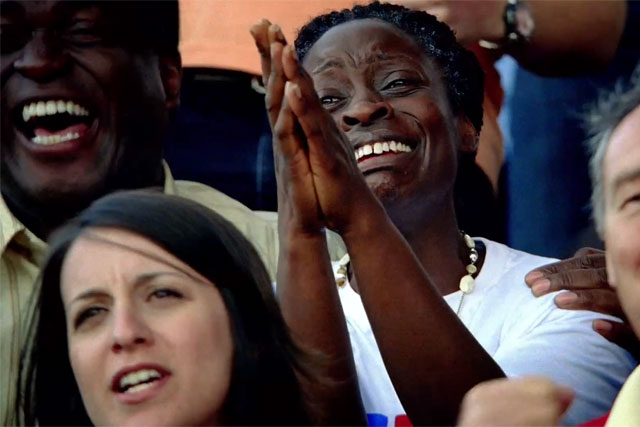 An official reveal trailer for videogame 'Call of Duty: Black Ops 2' has entered the chart in second position, after receiving 45,817 shares this week.
The film, created for Activision by agency 72andSunny, joins a list of past ads for the 'Call of Duty' brand that have performed strongly in the social web.
With more than 3,000 shares, an ad for American snacks brand Pop Chips, in which Hollywood actor Ashton Kutcher plays a host of characters recording online dating videos, has entered the chart in eighth position.
The film sparked a racism storm over Kutcher's portrayal of an Indian Bollywood producer and has reportedly been pulled by Pop Chips CEO Kevin Belling, who apologised for causing offence.
The chart, produced in conjunction with Unruly, ranks ads according to the number of times they have been shared on Facebook, Twitter and the blogosphere.
Ads launched more than 30 days ago are not included.
Due to technical issues with Twitter's API, shares from the social network were not included in the count.
1. P&G 'best job' by Wieden+Kennedy Portland
99,189 shares this week
All time: 1,649,399 shares

2. Flash mob in the Copenhagen Metro by Makropol
43,769 shares this week
All time: 53,366 shares

3. TNT Benelux 'a dramatic surprise on a quiet square' by Duval Guillaume Modem
25,786 shares this week
All time: 3,726,026 shares

4. Call of Duty: Black Ops 2 'Reveal Trailer' by 72andsunny
22,403 shares this week
All time: 127,845 shares

5. Thinkbox 'Harvey and Rabbit' by The Red Brick Road
5,040 shares this week
All time: 13,047 shares

6. Peugeot 208 'Nonstop to Rudimental ft. John Newman' by INITIALS Marketing
4,354 shares this week
All time: 47,408 shares

7. Burger King 'Steven Tyler' by Mother
3,268 shares this week
All time: 28,475 shares

8. ESPN 'it's not crazy, it's sports' by Wieden+Kennedy, New York
2,918 shares this week
All time: 141,801 shares

9. Roller Kingdom 'say no to crack, say yes to roller skating' by Rhett & Link
2,192 shares this week
All time: 60,552 shares

10. Popchips 'Worldwidelovers.com' by Zambezi
1,964 shares this week
All time: 4,260 shares