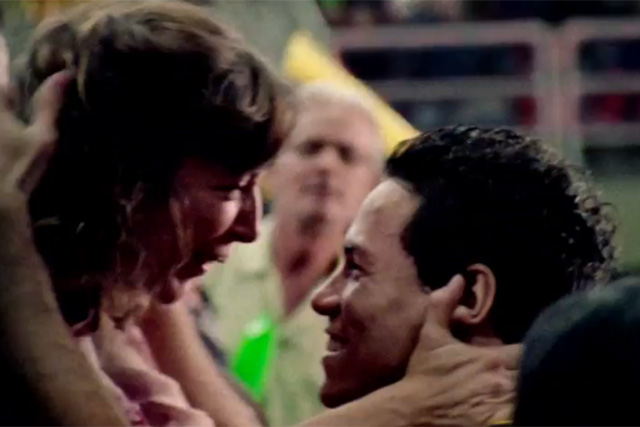 The P&G global ad, created by Wieden & Kennedy Portland, was launched this week and straight away became one of the most shared ads from an official Olympic sponsor.
It features mums from all over the world supporting competitors at every age, as they develop from child athletes to Olympians.
It was directed by Alejandro González Iñárritu, the man behind Nike's 'write the future' World Cup 2010 campaign and films including 'Babel'.
TNT Benelux's "dramatic surprise", which was shared more than 1.2 million times last week, increased its shares across Facebook and the blogosphere by 922,067 shares week on week, to be shared 2.1 million times.
A public service ad for US organisation Safer Sex For Seniors, showing fully-clothed elders practising sexual positions, has entered the chart in tenth position with more than 40,000 shares.
The ad, by DDB New York, was mentioned in 73 blog posts and has been viewed nearly 800,000 times.
Elsewhere in the chart, Google's "project glass" continued to inspire, with more than 60,000 shares this week, while two Nike ads placed in fourth and ninth position with 159,990 and 41,367 shares respectively.
The chart, produced in conjunction with Unruly, ranks ads according to the number of times they have been shared on Facebook, Twitter and the blogosphere.
Ads launched more than 30 days ago are not included.
Due to technical issues with Twitter's API, shares from the social network were not included in the count.
1. TNT Benelux 'a dramatic surprise on a quiet square' by Duval Guillaume Modem
2,138,607 shares this week
All time: 3,381,904 shares

2. P&G 'best job' by Wieden+Kennedy Portland
303,128 shares this week
All time: 334,700 shares

3. Tippex 'Hunter and Bear's 2012 birthday party' by Buzzman, Les Télécréateurs and Les 84
169,854 shares this week
All time: 190,369 shares

4. Nike 'make it count' created in-house
159,990 shares this week
All time: 372,710 shares

5. Prometheus 'happy birthday David' created in-house
125,469 shares this week
All time: 137,381 shares

6. Tic Tac 'the worst breath in the world' by Ogilvy & Mather, Paris
105,894 shares this week
All time: 158,678 shares

7. ESPN 'it's not crazy, it's sports' by Wieden+Kennedy, New York
81,287 shares this week
All time: 93,653 shares

8. Google 'project glass' created in-house
62,072 shares this week
All time: 812,364 shares

9. Nike 'I would run to you' by Wieden+Kennedy Portland
41,367 shares this week
All time: 168,869 shares

10. Safer Sex For Seniors 'safe sex for seniors' by DDB, New York
40,279 shares this week
All time: 40,627 shares