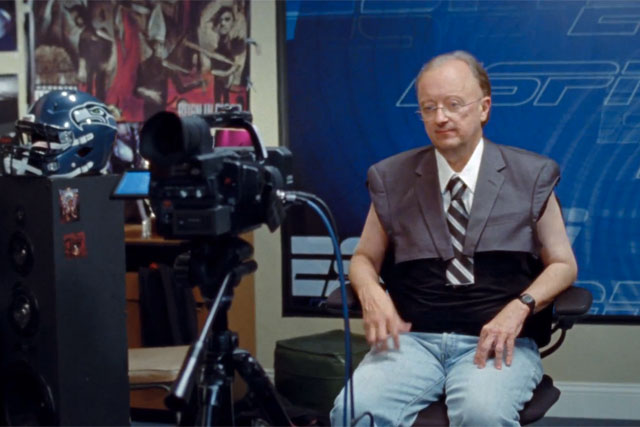 The ad, created by Wieden & Kennedy New York sees NFL reporter John Clayton finish a broadcast before transforming into a rebellious teenager.
Top of last week's chart, an ad for Australian lager Carlton Draught, dropped into fifth place with 8,901 shares across the social web.
The ad, created by Clemenger BBDO, Melbourne, has since been made private and can no longer be viewed on YouTube.
In third position, US President Obama's video for the Democratic National Conference held last week has entered the chart with 10,512 shares.
Meanwhile, ads for H&M, EA's Fifa 13 football game and adidas have entered the chart.
The chart, produced in conjunction with Unruly, ranks ads according to the number of times they have been shared on Facebook, Twitter and the blogosphere.
Ads launched more than 30 days ago are not included.
1. ESPN 'John Clayton' by Wieden & Kennedy New York
36,088 shares this week
All time: 67,291 shares
2. Samsung 'Galaxy Note II hands on video' by Cheil
16,270 shares this week
All time: 47,135 shares
3. Obama Biden '2012 Democratic national conference' by Obama For America
10,512 shares this week
All time: 10,512 shares
4. H&M 'fashion shower' by Colonel Blimp
9,086 shares this week
All time: 11,935 shares
5. Carlton draught 'beer chase' by Clemenger BBDO, Melbourne
8,901 shares this week
All time: 66,095 shares
6. Angry Birds 'join Freddie for a day' created in-house
1,918 shares this week
All time: 29,572 shares
7. adidas 'belief' by 180 LA
998 shares this week
All time: 22,740 shares
8. Obama Biden ''the do-over' by Obama For America
303 shares this week
All time: 21,643 shares
9. Obama Biden 'Republican women for Obama' by Obama For America
220 shares this week
All time: 27,593 shares
10. EA 'join the club' by AKQA and Wieden & Kennedy Amsterdam
51 shares this week
All time: 27,331 shares
Follow @brproducers