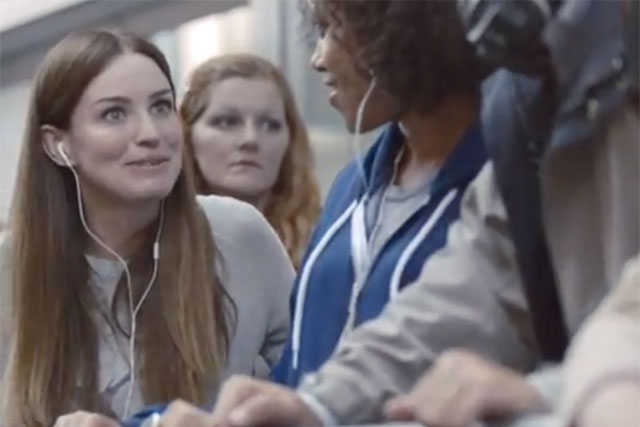 The spoof ad, created by 72andSunny, has been shared 99,294 times and has generated 2.3 million views after just a day online.
But it was Samsung's Galaxy Note II hands-on demo, created by Cheil, that took first place with 105,189 shares.
Further down the chart, Samsung make a third appearance with another ad created by Cheil, which has been shared 16,621 times in the last seven days.
Third in the chart, US Republican presidential candidate, Mitt Romney fought back against the success of recent Obama ads with a politcal spot outlining his plan for America.
The ad was one of seven in the 15 most shared ads this week, only two of which supported the current president.
Video footage of a seagull picking up a GoPro camera and flying over a beach in San Francisco has been shared 40,299 times making it fourth in the chart.

The footage, apparently uploaded by a camera owner rather than the brand, resembles a viral video released last year, in which a seagull flies off with the same brand of camera in Cannes, France.
Elsewhere in the chart, former 'Friends' star Jennifer Aniston appears in an ad for Glaceau's Smartwater.
Created by AR New York and shared more than 14,000 times, the ad is shot from the perspective of a CCTV camera in Aniston's home - revealing she is secretly pregnant, a mother of an alien and that her famous blond hair is actually a wig.
The chart, produced in conjunction with Unruly, ranks ads according to the number of times they have been shared on Facebook, Twitter and the blogosphere.
Ads launched more than 30 days ago are not included.
1. Samsung 'Galaxy Note II' by Cheil
105,189 shares this week
All time: 152,598 shares
2. Samsung 'the next big thing is here' by 72andSunny
99,294 shares this week
All time: 132,786 shares
3. Romney/Ryan 'the Romney plan' by Romney for President, Inc.
67,848 shares this week
All time: 68,173 shares
4. Go Pro 'stolen by a seagull'
40,299 shares this week
All time: 46,188 shares
5. Fragile Childhood 'monsters' by Euro RSCG, Helsinki
31,771 shares this week
All time: 41,920 shares
6. Midttrafik 'the bus' by M2Film
25,512 shares this week
All time: 26,624 shares
7. Coca-Cola 'beklenmedik misafir' by C-Section
18,660 shares this week
All time: 19,426 shares
8. Samsung 'Galaxy Note 10.1' by Rebel
16,621 shares this week
All time: 20,901 shares
9. Smartwater 'Jennifer Aniston security tapes' by AR New York
220 shares this week
All time: 26,547 shares
10. Remington 'Danny MacAskill vs. San Francisco' by Addiction
4,053 shares this week
All time: 20,234 shares
Follow @brproducers