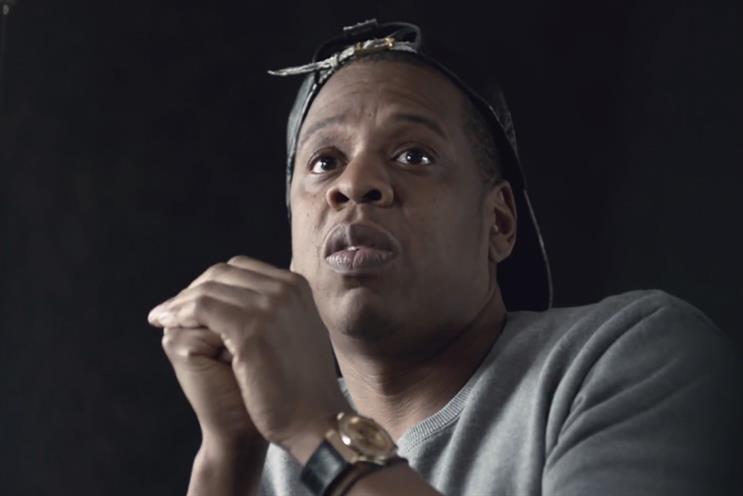 The Samsung ad, created by 72andSunny, promotes the giveaway of 'Magna Carter Holy Grail', the music mogul's latest album, to the first million Samsung Galaxy owners who download the special giveaway app.
The ad, which aired in America during the NBA playoffs, lasts for three minutes and is styled as a mini-documentary about Jay-Z's creative processes.
Last week's first place, Sony's spoof instructional video poking fun at Microsoft's new Xbox One console, falls into second place with 107,873 shares. The ad was created in-house.
In the week of the Cannes Lions Festival of Creativity, two more ads from Samsung have entered the chart.
One ad, demonstrating the features of the mobile manufacturer's latest Galaxy S4 handset, is set at the premiere of 'The Great Gatsby', held at the Cannes Film Festival last month. It was the ninth most-shared video this week.
A third ad for Samsung, starring Usher and promoting its Smart TV, has entered in seventh place. Created by agency Huge, the ad was shared 28,202 times this week.
Meanwhile, two ads for Father's Day, from Huggies and Lego, have entered the chart in third and fifth place respectively.
The Lego ad, created in-house, wishes dads a happy Father's Day with a stop-frame animation of a Lego Luke Skywalker and Darth Vader spending quality time together.
The chart, produced in conjunction with Unruly, ranks ads by the number of shares they generate across Facebook, Twitter and the blogosphere.
1. Samsung "magna carta holy grail"
157,928 shares this week
All time: 201,878 shares
2. Sony "used game instructional video" created In-house
107,873 shares this week
All time: 746,120 shares
3. Huggies "día del padre" by Ogilvy & Mather, Argentina
84,303 shares this week
All time: 186,663 shares
4. Adobe "photoshop live" by Abby Norm
74,681 shares this week
All time: 604,562 shares
5. LEGO "happy father's day" created in-house
44,463 shares this week
All time: 65,953 shares
6. EA "Battlefield 4" created in-house
32,250 shares this week
All time: 158,893 shares
7. Samsung "looking 4 myself" by Huge
28,202 shares this week
All time: 42,969 shares
8. Department of Transport "#publooshocker" by Leo Burnett
27,361 shares this week
All time: 221,374 shares
9. Samsung "The Great Gatsby premiere, Cannes"
24,435 shares this week
All time: 127,514 shares
10. Microsoft "dell tablet vs. ipad" by Crispin Porter & Bogusky
22,524 shares this week
All time: 30,956 shares
AUTOFEEDCAMVIRAL