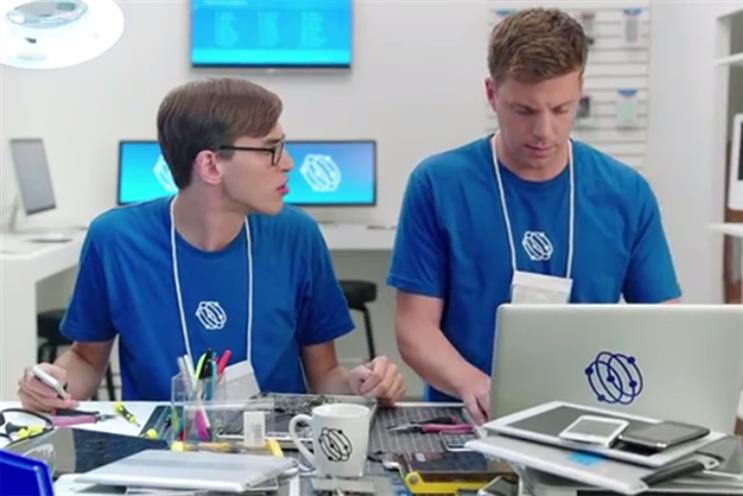 The spot, "It doesn't take a genius", sends up Apple's recent launch of its iPhone 6 and Apple watch, which was streamed live online.
It was created by Y&R, São Paulo, Brazil, shows two men in a Apple looking store screaming at their two-year innovation of 'a bigger screen', which Samsung already offers.
It also mocks how the Apple live stream kept freezing during the launch. The ad has been shared over 10,000 times on social media, according to tracking platform, Unruly.
Ikea's humourous "bookbook" pastiche on Apple remains the most shared ad this week, shared over 61,000 times, followed by ads for Fifa 15 and Tag Heuer, which were shared over 54,000 and 40,000 times in the last seven days respectively.
The chart is complied by Unruly and ads 30-days old or older are not included.
1. Ikea "experience the power of a bookbook" by BBH Asia Pacific
61,813 shares this week | 466,968 shares all-time
---
2. FIFA 15 "fifa 15 - official tv commercial" by In house
54,962 shares this week | 54,962 shares all-time
---
3. TAG Heuer "tag heuer | don't crack under pressure" by CLM BBDO, Paris, France
40,246 shares this week | 64,432 shares all-time
---
4. Samsung "galaxy note 4 - then and now" by 72andSunny
32,111 shares this week | 32,111 shares all-time
---
5. Coca-Cola "coca-cola the happiest thank you" by McCann Erickson (Philippines)
32,093 shares this week | 32,284 shares all-time
---
6. Grand Theft Auto V "grand theft auto v: "a picket fence and a dog named skip"" by In house
17,489 shares this week | 17,489 shares all-time
---
7. GP Brasil F1 "comercial - gp petrobras do brasil de f1 - 2014" by In house
15,165 shares this week | 31,670 shares all-time
---
8. LG "lg g3: just shoot!" by In house
13,596 shares this week | 53,071 shares all-time
---
9. TAG Heuer "tag heuer | ronaldo and button don't crack under pressure!" by BBDO Beau
12,892 shares this week | 113,589 shares all-time
---
10. Samsung Mobile US "it doesn't take a genius — galaxy note 4 with 5.7 inch quad hd display #notethedifference" by Y&R, São Paulo, Brazil
10,003 shares this week | 16,228 shares all-time
---