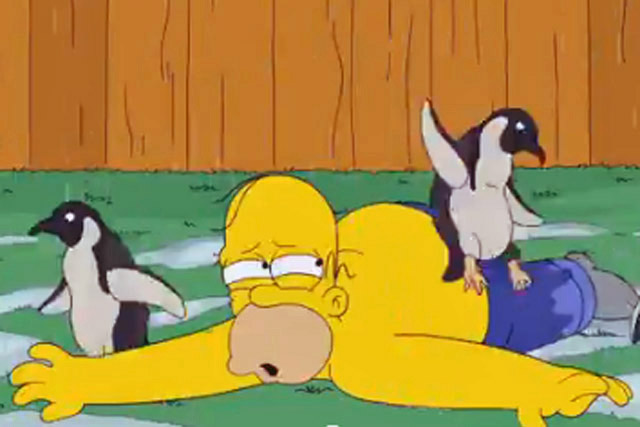 The ad features Homer Simpson nominating his neighbour Ned Flanders, friend Lenny and the business mogul Donald Trump to also do the challenge, before pouring a small glass of cold water over his head.
Homer then receives a downpour of cold water, polar bears, an ice cream van, penguins and Father Christmas on his head from his son, Bart Simpson, who is above in a helicopter. The ad has been shared more than 183,000 times in the past week.
The viral chart also features a Wieden & Kennedy ad for Nike featuring an animated Cristiano Ronaldo in fourth place with 27,072 shares this week and an Adidas ad featuring the singer Selena Gomez in sixth place with 21,777 shares.
An ad in Snickers' ongoing "you're not you when you're hungry" campaign featuring the American football player Johnny Manziel, who plays for the Cleveland Browns, as an aerobics teacher, is in tenth place with 15,258 shares.
The chart is complied by Unruly and ads 30 days old or older are not included.
1. PlayStation "simpsons als ice bucket challenge | the simpsons | animation on fox" by In house
183,572 shares this week | 312,500 shares all-time
---
2. PlayStation "destiny" by in house
56,069 shares this week | 63,758 shares all-time
---
3. NBA 2K15 "Trailer" by in house
27,636 shares this week | 55,633 shares all-time
---
4. "nike football "fast" by Wieden + Kennedy
27,072 shares this week | 83,898 shares all-time
---
5. The CW "the flash - the future begins trailer" by in house
25,201 shares this week | 25,406 shares all-time
---
6. adidas NEO Label "#neorunway: help selena gomez decide which shoes match this outfit!" by in house
21,777 shares this week | 38,900 shares all-time
---
7. Turkish Airline "gögsündeki armayla, hep daha yükseklere!" by in house
21,350 shares this week | 21,350 shares all-time
---
8. Benefit Cosmetics "bon qui qui - this is how we do it (benefit remix)" by in house
16,904 shares this week | 33,920 shares all-time
---
9. clash of clans "magic" by in house
16,773 shares this week | 16,773 shares all-time
---
10. snickers "johnny jamboogie" by in house
15,258 shares this week | 22,814 shares all-time
---