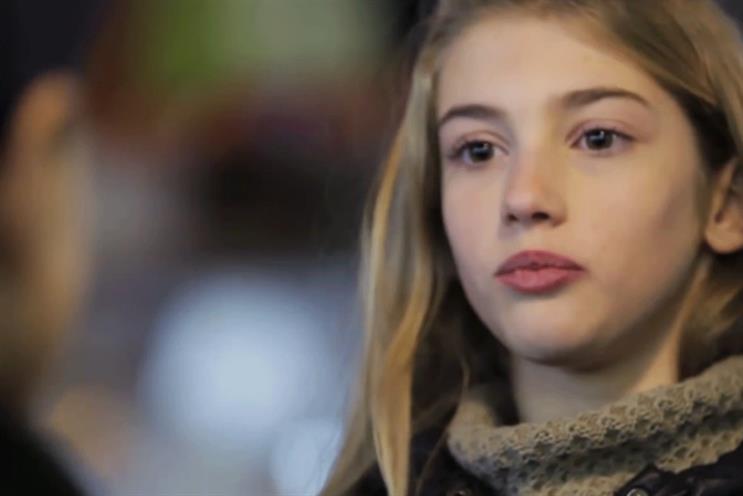 1. Fanpage.it "slap her: children's reactions" by Fanpage.it
The boys aged between seven and 11 are put in front of a girl and explain what they like about her.
They then oblige when asked to caress her and pull a funny face at her. However they refuse to slap her.
It was produced in-house by Fanpage.it, an Italian newspaper, and received 1,384,644 shares in the past seven days.
2. Canal+ "je suis Charlie, l'Hommage" by Canal+
Following the attacks in Paris last week, this video has put together a number of people holding up a Je suis Charlie sign to show their support. It has been shared 48,851 times over the week.
3. Edeka "hyper günstig einkaufen" by Jung von Matt/Alster
This ad for Edeka, the German supermarket, turns the shopping experience into a rave. It has been shared 38,937 times in the past seven days.
4. Calvin Klein "Justin Bieber - Calvin Klein Underwear Spring 2015" by Wednesday
The pop singer is seen modelling the underwear and then says "my Calvins". The ad has had 20,339 shares.
5. Calvin Klein "Justin Bieber and Lara Stone - Calvin Klein Jeans Spring 2015" by Wednesday
Wearing only jeans Justin Bieber plays the drums as Lara Stone models the clothing. The pair then can't get their hands off each other, and the ad finishes with the pop star saying "my Calvins".
The spot has been shared 17,087 times this week.
6. Jeep "go behind the scenes of the new Jeep Cherokee commercial to see how a downtown city street was transformed into a raging, mountain river"
The video shows how the team worked to create a river in downtown Vancouver, Canada, with 200,000 pounds of snow and 250,000 gallons of water.
It has been shared 8,820 times over the past seven days.
7. St John Ambulance "the chokeables" by Bartle Bogle Hegarty
David Walliams, David Mitchell, Johnny Vegas and Sir John Hurt provide the voiceovers in this spot which aims to teach parents how to save the life of a baby that is choking.
It was created by Bartle Bogle Hegarty London and has received 8,098 shares.
8. Philippine Department of Tourism "it's more fun in the Philippines"
A 30-second promotional video from the Philippine Department of Tourism shows off the delights that a holiday in the country offers. It has had 5,760 shares this week.
9. Mercedes-Benz "world premiere of the Mercedes-Benz F 015 Luxury in Motion research vehicle" by Mercedes-Benz
The video shows off the features and technology used in the latest design for the self-driving car. It has been shared 4,562 times.
10. McDonald's "archenemies" by Leo Burnett
The animated film shows well-known archenemies coming together over a McDonald's. It features SpongeBob and Plankton, Batman and The Joker and Pacman and Ghost. The video has been shared 2,954 times.