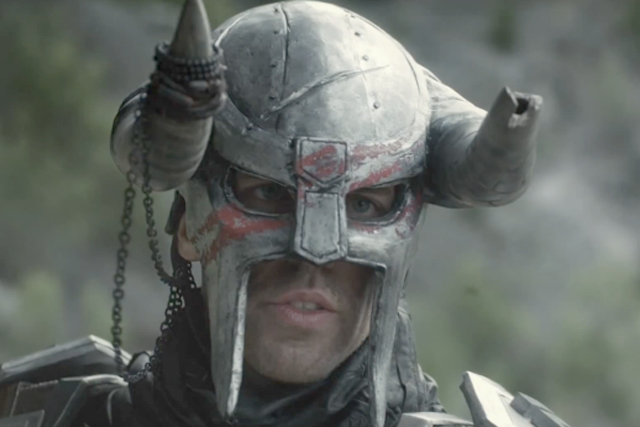 The ad has been created by Bartle Bogle Hegarty New York. It features two friends going head to head in a number of scenarios based on video games, while singing 'Perfect Day'. The work comes ahead of the console's own anticipated battle with Microsoft's XBox One over the Christmas period.
The ad, shared 80,097 times this week, has been viewed two million times since it hit the web but did not manage to beat MGM's 'Carrie' viral, which was also the most-shared ad last week.
The online film, created by Thinkmodo to promote the remake of the 1976 film based on a novel by Stephen King, has this week been shared 644,984 times. It has been viewed in excess of 40 million times on YouTube.
The ad is set in a US coffee shop, where unsuspecting customers are fooled into believing an angry patron has telekinetic abilities. It uses a host of theatrical tricks, including spring-loaded bookshelves and remote controlled furniture.
At the bottom of the chart, Rovio, the producer of Angry Birds, has once again made the list with this week's tenth most-shared ad.
Created in-house, the ad for the latest instalment of the Angry Birds series promotes the brand's move into racing games with 'Angry Birds Go!' It has been shared 25,926 times this week.
Elsewhere, a new ad for Red Bull, created in-house, has been shared 42,910 times this week.
The nine-minute video mixes alternative footage of Felix Baumgartner's Stratos Jump, including point-of-view and multi-angle footage. More than eight million concurrent users on YouTube viewed the original stunt live.
GoPro, the camera producer, kept its place in the chart with two videos that have each featured in the past two charts.
The chart, ranked according to data collated by Unruly, ranks ads on YouTube by the number of shares across Facebook, Twitter and the blogosphere. Ads older than 30 days are not included.
1. MGM "telekinetic coffee shop surprise" by Thinkmodo
644,984 shares this week
All time: 1,897,865 shares
2. Sony PlayStation "perfect day" by BBH New York
80,097 shares this week
All time: 83,395 shares
3. FX Network "danger zone" created in-house
76,502 shares this week
All time: 252,824 shares
4. GoPro "smaller, lighter, mightier still" created in-house
47,166 shares this week
All time: 269,808 shares
5. Red Bull "stratos full pov - multi-angle + mission data" by In-house
42,910 shares this week
All time: 49,931 shares
6. Mercedes Benz "chicken" by Jung von Matt/Neckar
40,363 shares this week
All time: 508,587 shares
7. GoPro "fireman saves kitten" created in-house
37,539 shares this week
All time: 1,148,357 shares
8. DC Comics "Superman 75th anniversary" by Warner Bros. Animation
33,091 shares this week
All time: 94,061 shares
9. Hot Pockets "you got what I eat"
26,672 shares this week
All time: 62,864 shares
10. Rovio "Angry Birds go!" created in-house
20,116 shares this week
All time: 25,926 shares
AUTOFEEDCAMVIRAL