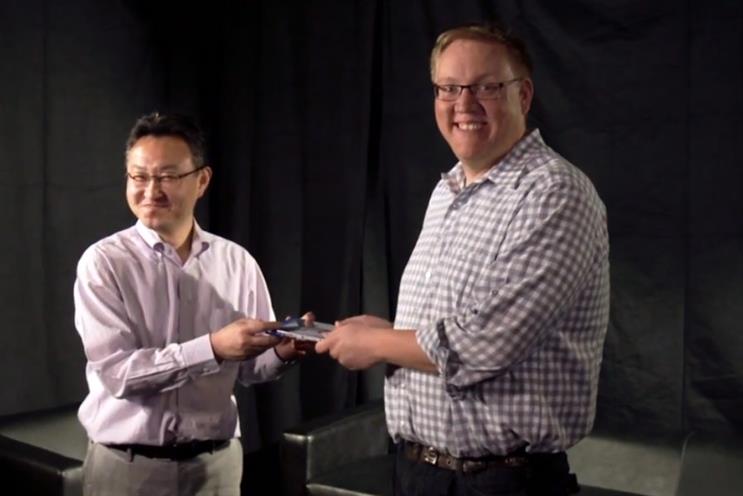 The Sony ad, created in-house, sets itself up as an instructional video, only to show the two demonstrators simply swapping a game face-to-face. It follows confusion around announcements from Microsoft, which have been understood by many to prohibit the shared and pre-owned games market.
According to Unruly, the ad was shared 626,081 times across the web this week.
Following Apple's Worldwide Developer Conference (WWDC) earlier this week, a video showed at the event promoting Apple's design credentials has entered the chart in sixth place.
Created by agency TBWA/Chiat/Day, the video was shared just short of 29,000 times since it hit the web on the second day of the conference, Tuesday 11 June.
In second place, an ad from Adobe, created by Abby Norm, has entered the chart with 467,152 shares.
The ad, in which people waiting at a bus stop are secretly photographed and then 'Photoshopped' into animations played on the side of the same bus stop, promotes Adobe's #CreativeDay hashtag.
After topping the chart last week, insurance firm Geico slips to third place with its "happier than a camel on Wednesday" ad, created by The Martin Agency.
Elsewhere, the controversial "#publooshocker" ad from the Department of Transport, entered the top five most-shared ads with 188,424 shares.
Reaching fourth place, the ad, created by Leo Burnett, has been viewed 6.8 million times.
The chart, produced in conjunction with Unruly, ranks ads by the number of shares they generate across Facebook, Twitter and the blogosphere.
1. Sony "official playstation used game instructional video" created in-house
626,081 shares this week
All time: 685,789 shares
2. Adobe "street retouch prank" by Abby Norm
467,152 shares this week
All time: 522,294 shares
3. Geico "happier than a camel on Wednesday" by The Martin Agency
226,963 shares this week
All time: 202,599 shares
4. Department of Transportation "#publooshocker" by Leo Burnett
188,424 shares this week
All time: 74,537 shares
5. Red Bull "gee atherton gets hunted by a peregrine falcon" by
Red Bull Media House & BBC Earth Unplugged
37,192 shares this week
All time: 31,690 shares
6. Apple "intention" by
TBWA/Chiat/Day
28,942 shares this week
All time: 205,496 shares
7. Cheerios "just checking" by
Saatchi NY
28,355 shares this week
All time: 101,139 shares
8. EA "Fifa 14" created i
n-house
26,701 shares this week
All time: 33,789 shares
9. Sony "greatness awaits" by
BBH New York
17,830 shares this week
All time: 54,713 shares
10. Samsung "the best fit for your lifestyle needs" by
72andsunny
17,700 shares this week
All time: shares
AUTOFEEDCAMVIRAL