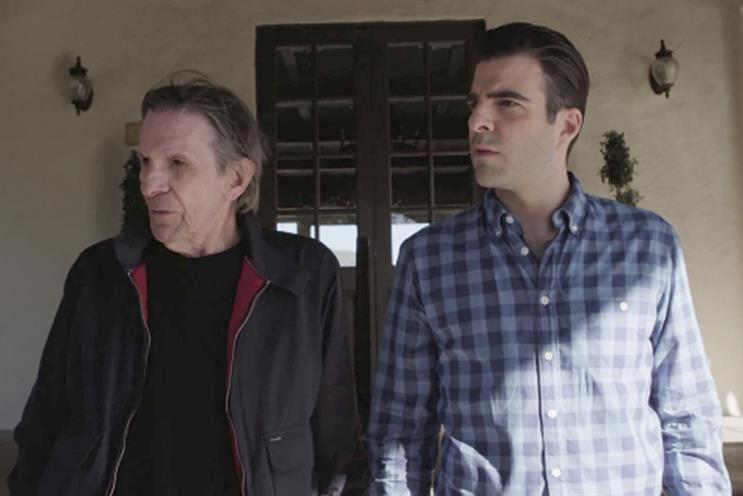 The ad by Paulilu showcases Audi's latest car model while poking fun at rival brand Mercedes. It tops this week's chart with 357,852 shares in the past seven days.
Dove takes a more reflective approach with its "real beauty sketches" film by Ogilvy Mather. The work carries the strapline, "you are more beautiful than you think" and compares women's descriptions of themselves with how they are viewed by others. The ad strikes a chord with over 3.5 million all time views.
Evian's latest "baby" vival remains in the chart with 189,449 shares in the past seven days. The ad dipicts the inner child of dancing adults.
The chart was produced in association with Unruly and ranks ads by the number of times they were shared across Facebook, Twitter and the blogosphere.
1. Audi "Zachary Quinto vs Leonard Nimoy: the challenge" by Paulilu
357,852 shares this week
All time: 408,534 shares
2. Dove "Dove real beauty sketches" by Ogilvy Mather
284,279 shares this week
All time: 3,536,170 shares
3. Evian "baby & me/the new Evian film" by BETC
189,449 shares this week
All time: 2,254,641 shares
4. Arlen's Transmission Centre "shift it - amazing transmission commercial" by The Commercial Kings
129,897 shares this week
All time: 180,490 shares
5. Activision "Call of Duty: ghosts masked warriors teaser trailer" by 72andSunny, USA
114,529 shares this week
All time: 275,516 shares
6. IBM "a boy and his atom: the world's smallest movie" by Ogilvy & Mather
81,767 shares this week
All time: 193,145 shares
7. Microsoft "switch to the Nokia Lumia 920 Windows Phone" by Wunderman
79,316 shares this week
All time: 308,347 shares
8. Rockstar Games "Grand Theft Auto v Michael. Franklin. Trevor" by In-House
30,924 shares this week
All time: 177,036 shares
9. H&M "Beyoncé as Mrs Carter in H&M" by director Jonas Akerlund
28,495 shares this week
All time: 198,169 shares
10. Durex "Fundawear - touch over the internet" by Havas Worldwide, Sydney
5,397 shares this week
All time: 156,812 shares
AUTOFEEDCAMVIRAL