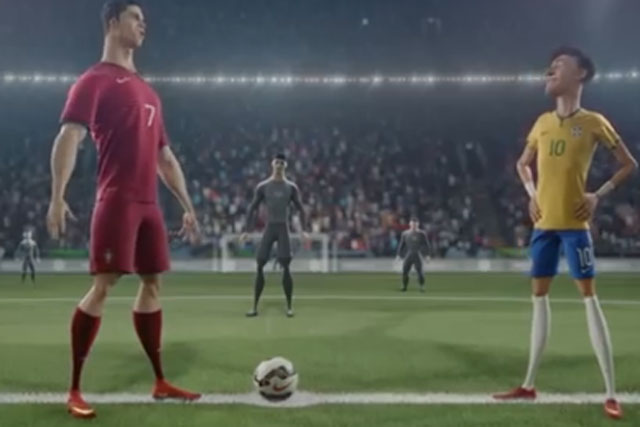 Nearly half the chart, complied by Unruly, is made up of World Cup Brazil ads, including ones from Adidas, Nike and McDonalds.
Activia's Shakira music video ad '"lalala'" by Jaume De Laiguana in support of The UN's World Food Partnership, continues to lead for the fourth week.
New entries come from Hello Flo, Coca-Cola and Beats by Dr Dre.
1. Activia "Shakira lalala" by Jaume de Laiguana "
305,815 shares this week | 4,133,871 shares all-time
---
2. Hello Flo "first moon party" by in-house
215,946 shares this week | 221,815 shares all-time
---
3. Nike "nike football: the last game ft. ronaldo, neymar jr., rooney, zlatan, iniesta & more" by Wieden + Kennedy
59,211 shares this week | 871,113 shares all-time
---
4. Samsung "#galaxy11: the anthem" by DNA
45,440 shares this week | 63,339 shares all-time
---
5. Harley-Davidson "harley-davidson project livewire" by in-house
38,989 shares this week | 38,989 shares all-time
---
6. adidas "the wake up call: all in or nothing ft. messi, alves, suarez, ozil, rvp and more" by TBWA/Chiat/Day Los Angeles
30,715 shares this week | 70,301 shares all-time
---
7. Coca-Cola "not seeing is believing, blind football 5-a-side -- 2014 fifa world cup" by In-house
25,875 shares this week | 29,409 shares all-time
---
8. Ubisoft "assassin's creed unity e3 2014 world premiere cinematic trailer [scan]" by in-house
24,586 shares this week | 221,812 shares all-time
---
9. "mcdonald's "gol! fifa world cup - brasil 2014" by in-house
20,726 shares this week | 113,363 shares all-time
---
10. beats by dre "the game before the game" by The Sword Fight
18,911 shares this week | 406,651 shares all-time
---