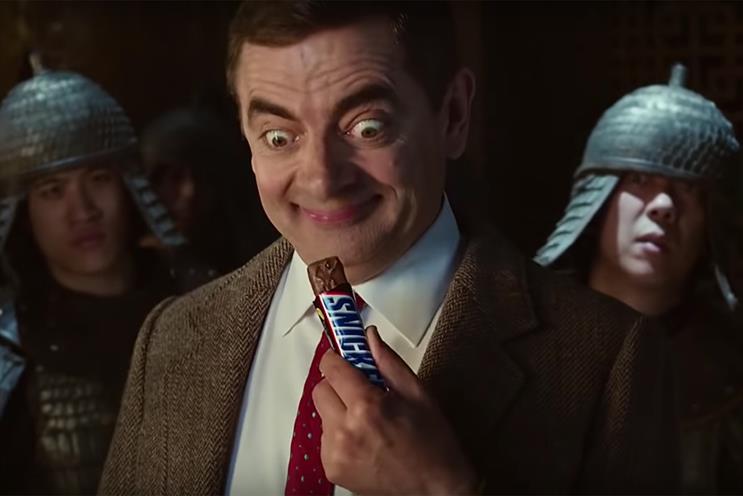 Celebrities are a product of the public's making and correspondingly also capture their imagination. It's little wonder that advertisers have been keen to harness celebrities' power in an attempt to improve their businesses, reputations and profits.
As part of Campaign's 50th anniversary, we asked Hamish Pringle, the author of Celebrity Sells, and Roger Ingham, from Data Alive Ltd and an IPA research consultant, to draw up a definitive list of the most effective use of celebrities in UK ads of all time. Here's the final top 10.
10 HM Revenue & Customs, Adam Hart-Davis, 'Tax doesn't have to be taxing'
2005, IPA gold, Dare
The campaign has generated savings of £185m on a total spend of £22.5m – that's a return on investment of £8.22 for every £1 invested.
9 Direct Line, Harvey Keitel, 'Winston Wolf – fixer'
2016, IPA gold, Saatchi & Saatchi
The activity increased volumes of both car and home insurance quotes, and staunched the decline in the insurer's policies. The overall campaign's net profit return was estimated at £1.22 for every £1 invested.
8 Snickers, Rowan Atkinson, 'You're not you when you're hungry'
2016, IPA gold, Abbott Mead Vickers BBDO
A single film connected with 1.85 billion people in 60 markets and drove more than $70m in incremental sales. Globally, the revenue return was estimated at $10.65 for every $1 invested.
7 Walkers, Gary Lineker, 'Make a nice guy nasty'
2002, IPA gold, Abbott Mead Vickers BBDO
The UK's longest-running celebrity campaign, it helped to increase sales by 105% and market share from 21% to 27% in the grocery category between 1995 and 2000.
6 Marks & Spencer, Twiggy, 'Your M&S'
2006, IPA Grand Prix, Y&R London
Over two years, the campaign contributed to more than 18 million additional customer visits. In spring 2006, Marks & Spencer reported fourth-quarter sales growth of 9.1% compared with a 1.4% decline in total high-street sales and it had the highest price-earnings ratio of any FTSE 100 retailer.
5 Travelocity, Alan Whicker, 'Hello world'
2005, IPA Grand Prix, Dare
After 15 months, Travelocity had boosted brand awareness by 54%, visits by 123%, sales by 135% and market share by 44% – all with the lowest acquisition cost and a return on investment of £5.60 for every £1 spent.
4 BT, Bob Hoskins, 'It's good to talk'
1996, IPA Grand Prix, Abbott Mead Vickers BBDO
Hardman Bob Hoskins gave people "permission" to talk for longer. Central TV used as a control area showed direct evidence of advertising effect, with payback calculated as £297m.
3 Morrisons, Diarmuid Gavin, 'Let's grow'
2009, IPA Grand Prix, MEC
In its first year, 85% of primary schools registered, 39 million vouchers were redeemed and "Let's grow" has generated payback of £21.57 per every £1 spent.
2 Tesco, Jane Horrocks, Prunella Scales, John Gordon Sinclair, 'Every little helps'
2000, IPA Grand Prix, MullenLowe London
During the period of 1990 to 1999, Tesco's turnover increased from £8bn to £17.4bn, and its market share rose from 9.1% to 15.4%. Tesco became the market leader in 1995, overtaking Sainsbury's.
1 Johnnie Walker, Harvey Keitel, Jenson Button, Roberto Baggio and others, 'Keep walking'
2008, IPA Grand Prix, Bartle Bogle Hegarty
The campaign made the brand symbolise personal progress in more than 120 markets. The $2.21bn of incremental sales generated since launch amounts to total sales growth of 48%.