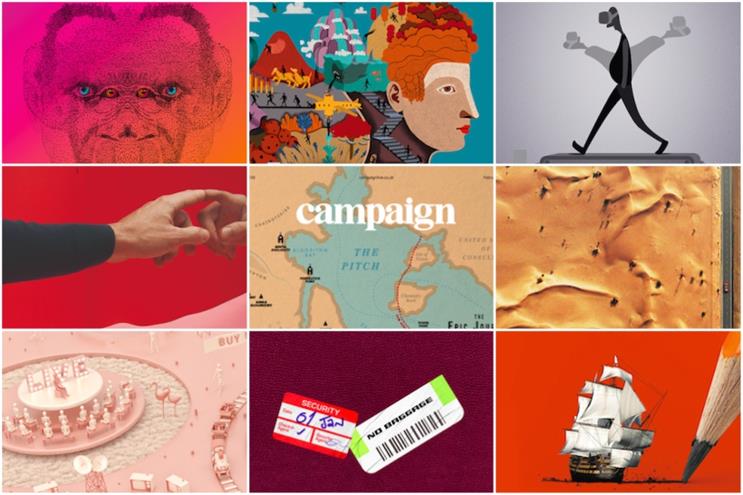 What connects a monkey, big data, a passport and a mirror?
Well, Campaign's Cover Hack competition invited the advertising and creative community to "create an epic journey" on our February print edition cover wrap. Inspiration sprung from a variety of sources.
Seven judges selected the finalists from around the world then scored entries, naming Bozboz the winner.
Runners up include entries from AMV DDBO, Cheil and The Brooklyn Brothers plus impressive work from smaller agencies and freelancers. We're distributing this special issue at CES in Las Vegas and to subscribers.
Jakub Skorupa, The Mill
"The dawn of the virtual era. In the age of infinite possibilities and over-familiarity, how are we going to engage with our audiences?"
AMV BBDO
"Any Epic Journey will be a challenge with many boundaries to cross and you would be foolish not to go properly prepared. This cover promotes Campaign as your Passport to a great adventure in a new marketing journey. The emblem is comprised of an array of new media opportunities – and the back cover encourages you to enter the new year with 'no baggage'. All you need now is a toothbrush."
The Brooklyn Brothers
"Join us on an epic journey as we travel the many lands of marketing in 2018. Dangers be there!"
Mike Voropaev and Mickey Shu-Ting Chan
"The stylish and modern cover invites our audiences to go on a journey of modern marketing; it tells an epic story visually and encourages audiences to dive in and explore. It shows how brands produce content and engage consumers. All mediums – from outdoor to digital, radio to social media have been included in this journey. It celebrates how marketing techniques and media morphed together with creativity and science to become this new chimera – "modern marketing'."
Cheil India
"The epic journey that the apes made to be humans is the most epic of all times. How this species evolved itself into anatomically modern humans, how the communication changed from gibber, hoots and babbling to YouTube and social media. This epic journey can be compared to none. It's a boom and bane at the same time. The right information at the right time is a boom but the same information if tampered is a bane. Campaign for 50 years has this evolution to impart the information at the right time to the right audience through the right channels."
Toby Derham & Christopher Benson, Antidote
"Eight states, three time zones and two weeks of driving, Route 66 really is an epic journey. Our cover pays homage to this iconic drive, and with Campaign going stateside to CES in Las Vegas, it also felt relevant. The art directional twist of making a feature of the spine celebrates campaigns new format, with the old magazine not having had a spine like this. We haven't seen anything like this before and it gives the design a real surprise factor. We love the thought of people looking at it for the first time and thinking "How the hell did a picture of a desert make the cover.", then having that moment of realisation when they see the whole cover spread."
Borne
"We've come a long way since the bug that didn't bite. But the epic journey of our new millennium has seen the techpocalypse-that-wasn't usher in the dawn of big data. Two decades on and the sheer amount of data in existence is unfathomable – and without the wisdom to wield it, it is simply an endless ocean of numbers. The value of big data to business relies entirely on human intelligence one way or another. Because it may be big, but without humanity, it'll never be clever. And wherever the destination of our epic journey, without people, we're lost."
PK Network Communications
"It all starts with putting pencil to paper. From there the ideas are endless. In the ever-growing high-tech world of computer art and affects, it all comes down to Man's creative power to move concept to campaign starting with something as basic as a graphite pencil, drawing a simple line."
Sammy Jo Jenkins
"When making a decision, a customers mind embarks upon an epic journey, considering both rational and emotional influences."
Select World
"Moving beyond the limits of the logical through the mirror of the digital screen. Emerging into a brand's world of promise, elevated by emotions, made real through imagination. A transformative journey. Reaching back to be inspired by Jean Cocteau's 'Orpheus', as Jean Marais moves from reality through the mirror into another plane where anything is possible. Compelled by the message 'it's not about understanding it's about believing'.
Moved by the message of Michelangelo's 'Creation of Adam'. The near-touching hands of God and Adam, breathing life into creativity, becoming an icon of humanity.As the cover itself represents a journey, wrapping from back to front in a continuous image, we are intrigued by its elliptical nature. We seek meaning. It comes from inside."