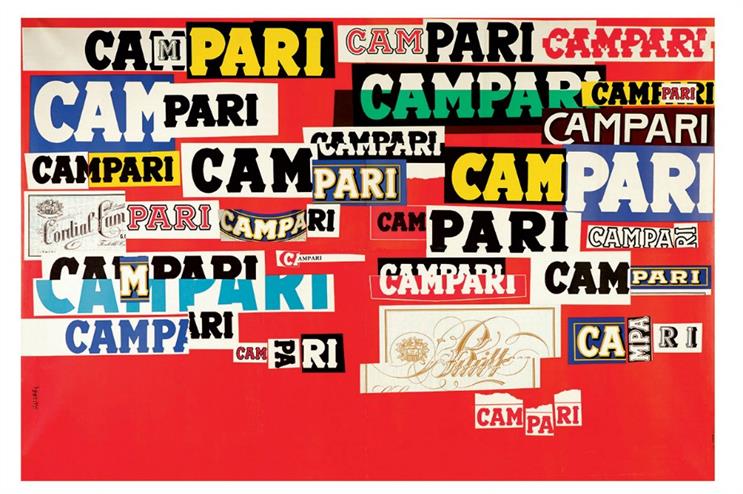 The Galleria Campari on Tour exhibition opened yesterday (3 August) and runs until 31 December at Osteria at the Barbican.
The space is hosting a collection of the most representative artworks from Campari's rich history. Making its debut in London, the exhibition is recounting the story of the brand through modern and contemporary expressions of artistic works created by well-known international artists, in an initiative conceived by the gallery's artistic director, Marina Mojana.
The collaboration between Campari and the artistic world has its origins at the beginning of the century, when Campari first began to establish itself as 'the aperitif par excellence'. The exhibition will be a journey into the evolution of time, displayed through the nine works of art exhibited, including Marcello Nizzoli's post-Cubist Campari poster, Futurist Fotunato Depero and Leonetto Cappiello's original 1921 piece 'Spritello' – who is being exhibited for the first time in the UK at Osteria.
Art and cocktail enthusiasts are invited to sample a flight of Negroni's – the most renowned Campari cocktail – or sip on the aptly named 'Spiritello' cocktail in homage to Leonetto Cappiello's 1921 piece.
Complementing the collection, Michelin-starred chef Anthony Demetre has designed a bespoke tasting menu with an emphasis on seasonality and Italian produce. Guests can sample salt baked sea bass, a roast saddle of rabbit while the Italian classic vanilla and strega panna cotta will be paired with late summer berries. The botanical tones of Campari will also be highlighted throughout the menu.
Last year, Campari partnered with communications agency The Field to celebrate its 150-year heritage with an installation that also celebrated art and cocktails.
Pietro Mattioni, managing director of Campari UK, said: "It is incredibly exciting to be debuting Galleria Campari on Tour in the UK. Celebrating the 155-years old history of Campari, the heritage brand in our portfolio, visitors will be able to witness the Italian style and rich artwork of this iconic brand."
Demetre added: "The depth of flavour in Campari is something I'm really excited about translating into the dishes – we spent a lot of time developing the menu to make sure each plate was just right. The focus remains on quality produce and an Italian influence, but with a nod to the botanics of the drink."