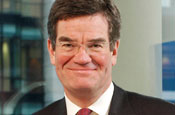 Wood is the agency start-up's first chairman following its launch in May by former Lowe London chief executive Garry Lace and Rainey Kelly Campbell Roalfe founder Robert Campbell.

Wood last week became chairman of another marketing sector firm, Digitalis Media, which specialises in search optimisation and online reputation management.

He starts work with immediate effect at Campbell Lace Beta, reuniting him with one of its clients, the NSPCC, of which he was deputy chairman between 2000 and 2007.

Lace said: "Many people know Mark as a result of his outstanding career in the commercial world. We know him as someone who combines an incredible intellect with a real passion for ideas and innovation. He will be a major driving force for our company over the months and years ahead."

The agency's other clients include Thomas Cook, Bupa, Gamesys and The Outdoor Advertising Association.