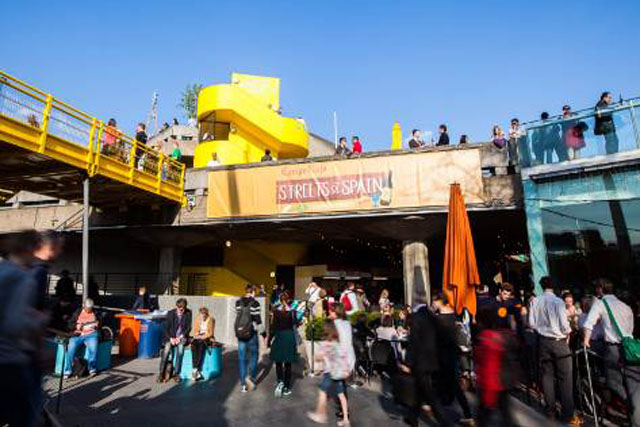 Held on London's South Bank last week, the centrepiece of the festival was a recreation of Barcelona's renowned food market La Boqueria, which enabled authentic stallholders to sell their delicacies in the capital for the first time.
The festival was visited by 160,000 people with 540 taking part in free wine masterclasses laid on by the brand. Over the weekend, live installations by Spanish street artists Okuda and Remed were also created. Festival-goers could also visit a Michelin-starred pop up tapas restaurant, as part of the activity.
As a result of the work, the brand saw a significant uplift in traffic through social media channels, with a 25% increase in Facebook fans as well as reaching more than 3.2m consumers through the events specially-created Twitter feed.
Marketing spoke to Patrick Venning (left), Pernod Ricard's UK marketing director, about the festival, trends in wine and the challenges he faces.
This is your first experiential work on Campo Viejo. Why have you chosen to run this type of activity?

What we're looking to do with our wine brands is bring more personality to them.

We've tried to bring to life Campo's platform of 'live uncorked' and make it an immersive brand experience.

Then it's about projecting that through the airwaves, through social media and through CRM.

Putting on something of this nature is not cheap, when you take into consideration the amount of people that are involved and the hiring of these areas. Therefore, it has to work in a much more extensive way.

So it goes wider than the actual event?

We're driving a huge amount of content which creates amplification beforehand and consumers will be able to connect with the impact left afterwards.

With any of the experiential work we've done that's the hub. If you looked at the costs of experiential alone they probably don't pay out. What pays out is when you amplify the initiative beforehand and what you leave behind.


What are some of the trends driving the wine market?

There's a drive to a slightly lighter and fresher style coming through. To respond to this, we launched Cool Harvest, which is slightly lower in alcohol. We've also seen the rise in popularity of Pinot Noir.

Rosé still continues to grow and while I haven't got the stats, I think it's less female-oriented than it used to be; I see many men comfortable with drinking Rosé.

There's a big debate about how far sparkling wine is cannibalising Champagne but our Champagne brands have not suffered or lost share to sparkling. But having said that, we need to make sure our sparkling wine brands are still delivering for us.

How tough is it to maintain a premium positioning in the face of supermarket discounting?

It's difficult. It's a question of how you grow the brand responsibly. Yes, retailers want to promote it but that's testament to the strength of the brand.

Is there a principle guiding Pernod Ricard's marketing?

It's to make sure consumer insight is at the heart of everything. We're also looking at really dialling up our investment in a far more relationship-driven way. Experiential and digital are a big part of that. We want to have a dialogue with consumers.
What are the big challenges you face as a marketer?
In terms of big marketing challenges, it's the pace of change that's driven by the whole digital development. Knowing how best to target consumers, with what level of investment. What we don't want to do is be all things to all men and do a 'tick box' exercise. It's about really homing in and narrowing down and knowing what your consumers are doing.

Innovation is an exciting challenge, the last couple of years have seen a real growth in innovation in spirits, the like of which we haven't seen in the last ten years and we want to be a part of that. A lot of our brands are challenger brands and that forces you to be a bit more innovative.

Trying to drive growth in a mature market is also a massive challenge but London is a really vibrant city and everybody wants to invest and play in London so all of our major brand owners want to know what we're doing here. It's the heart of where many trends start from.