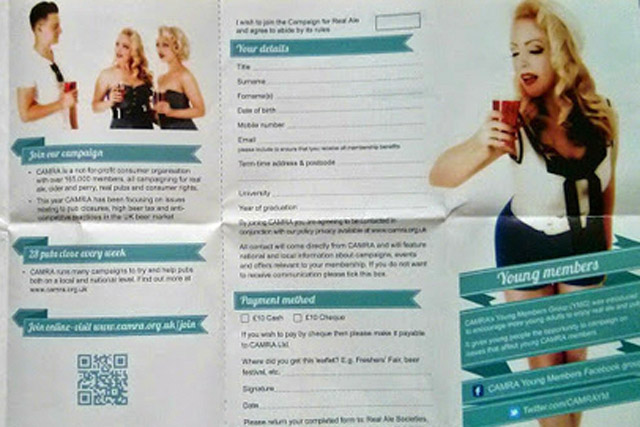 A petition launched earlier this week calling for the flyers to be removed from circulation has received almost 300 signatures. Camra is a voluntary organisation campaigning for real ale, community pubs and consumer rights.
The petition was set up by Franzi Florack who claimed the flyers showed "incredibly sexist pictures of vintage pin-up models who wear low cut corsets, have open red lips and blond hair and who present their boobs and themselves to the viewer and the male beer drinkers in the flyer".
She added: "This is not just an offensive way to objectify women who join real ale societies, but also an insult to the intelligence and taste of anyone has fought hard to stop 'beer sexism'."
The flyers were part of Camra's Young Members campaign aimed at young people who are part of university real ale societies.
Keith Spencer, the director of membership at Camra, said: "As a number of people have informed us they find the imagery sexist and are offended by this campaign, Camra has decided to withdraw this material from circulation.
"The campaign was discussed with young marketing professionals within Camra's Young Membership Marketing Group, which is made up of men and women, and they supported this creative.
"However, Camra takes all complaints very seriously and we would like to apologise for any offence this may have caused."
He said that Camra would work with its young membership to create a new campaign.