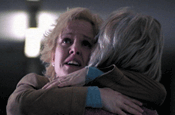 The charity plans to draw up a shortlist of 11 agencies to pitch. Agencies have been asked to supply evidence of relevant experience, including any previous not-for-profit online advertising.

The successful agency will be appointed to help deliver a range of campaigns for the charity, which will include online advertising and e-mail marketing, encouraging people to donate to the charity.

Previously, the cancer charity has worked with digital agencies on a project-by-project basis, but it is understood that the relationship it is seeking with a new digital agency will span several campaigns.

Most recently, Ogilvy Interactive worked with the charity to produce a viral film promoting Breast Cancer Awareness month, which begins on 1 October.

The film, highlighting breast cancer-checking techniques, features a woman fondling the pectorals of a toned male model.

The viral links to a microsite that provides tips on checking for breast cancer, as well as encouraging donors to give a regular sum in return for a calendar featuring the male model.