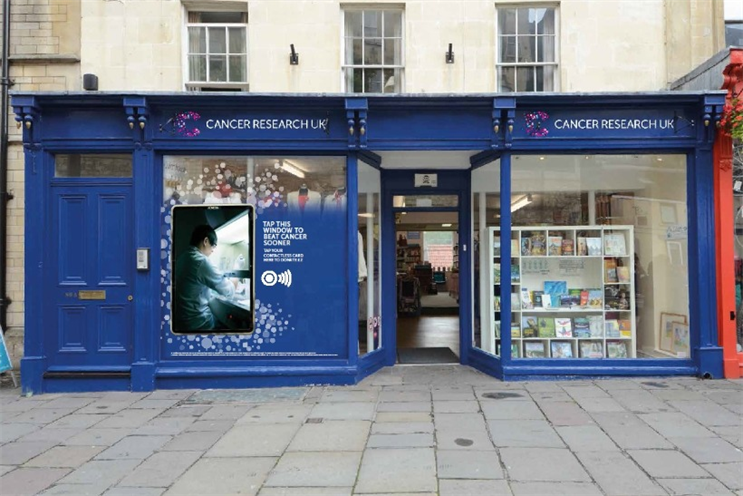 The charity claims the concept is a world first in giving, and it's possible the scheme could move fundraising away from 'chuggers' and collection boxes.
Cancer Research has partnered with Clear Channel to implement the technology.
Customers who walk past Cancer Research outlets in Brighton, Kensington, Guildford or Marylebone will be able to tap their card on the contactless payment point on the window to donate a fixed fee of £2. If they own an NFC-enabled phone with an active mobile wallet, they can also tap their devices to donate.
Once they have donated, an interactive screen will play a video showing the difference their money has made. It's possible the feature could have a knock-on effect, driving footfall into Cancer Research's stores.
The scheme will run from 30 January until 13 February, will be available 24 hours a day, and is compatible with any contactless credit or debit card.
Charity shops as marketing channel
While contactless payments offer the most obvious benefits, the new interactive screens also supply a new way to reach potential donors.
Cancer Research UK's director of innovation, Paul Clarke, told Marketing: "We see this as a great opportunity to use our highly visible shops in 570 locations across the country as a new marketing channel, using interactive creative that really engages with our supporters old and new."
While the February campaign is "very much a trial", Clarke added that the charity would consider rolling out the technology if it proves a hit.
Clarke told Marketing: "Cancer Research UK will be actively tracking donations, as well as supporter behaviours and will evaluate activity thoroughly to understand the potential impact this technology could have if rolled out to our network of 570 shop locations."
It isn't clear how much the trial is costing the charity, however Clarke said partners Clear Channel, MediaCom and AMV were providing "extremely competitive" prices.
Read next