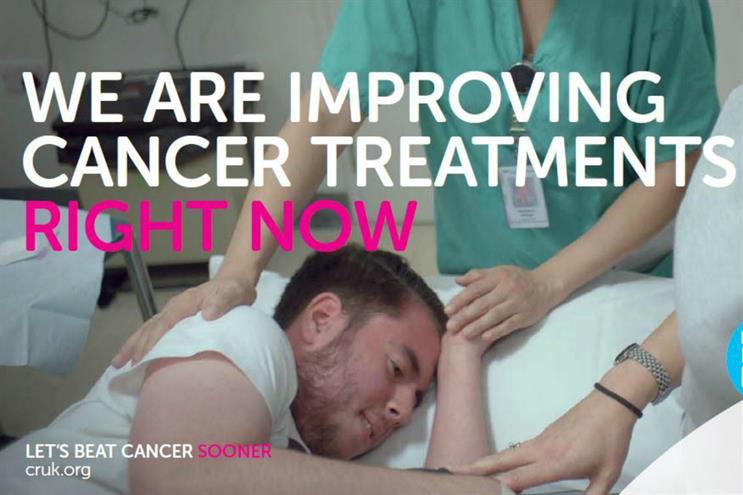 The 90-second "Live from the inside" ad will broadcast at 3.25pm on Wednesday and will provide an opportunity to watch the removal of bowel polyps, a small growth on the inner lining of the colon.
Footage will be filmed from a camera linked to a flexible tube called a colonoscope and is part of Cancer Research UK's "Right now" campaign showing the day-to-day life of those affected by cancer using the real stories of patients, researchers and medical staff.
By broadcasting the colonoscopy procedure live, the charity aims to show the positive impact research has had on helping to beat cancer.
The ad will communicate that, thanks to research there are many initiatives across the UK being worked on currently to help prevent, diagnose and treat cancer.
Doctor Sunil Dolwani is performing the procedure on Philip McSparron at the Cardiff and Value University hospital.
Dr Dolwani will explain what viewers can see during the live broadcast as he removes McSparron's polyps, which were discovered after a routine bowel cancer screening programme picked up hidden traces of blood in his faeces.
The majority of polyps do not develop into cancer, but some do, therefore surgery can help prevent bowel cancer.
Cancer Research UK executive director of fundraising and marketing Ed Aspel said: "Broadcasting Philip's colonoscopy live gives us the opportunity to show one of the many people across the UK who is benefitting from procedures that wouldn't be possible without research
"We want viewers to join us to experience the unique insight of seeing live inside the human body, and witness a procedure that can actually prevent cancer from developing.
The live TV broadcast will be supported by a Facebook stream with a cancer nurse answering viewers' questions. Channel 4 will also host the ad on its social media accounts.
A number of 10-second teasers will be running in the lead up to the live ad and viewers will also have a chance to watch a 60-second version of the spot on 18 January at 9.30pm during the second ad break of drama No Offence.
Channel 4 agency principal Danny Peace said the ad would build on 4 Sales' legacy for "industry leading ad break innovations".
McSparron concluded: "Hopefully people will be interested in seeing the live footage and it will encourage them to be more willing to talk about cancer and think about taking up regular screening when offered."