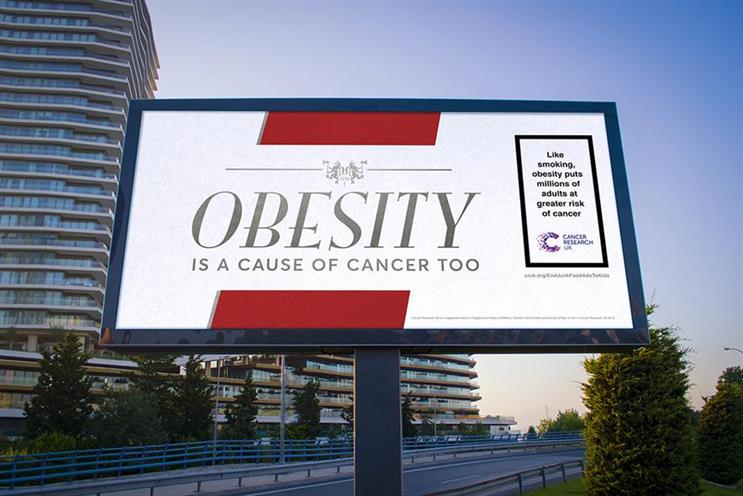 Members of The Marketing Society have voted Cancer Research UK as its Brave Brand of the Year, in association with Campaign and sponsored by IBM iX, at the organisation's diamond anniversary dinner in London.
The charity won acclaim, but also stoked controversy, with "Obesity is a cause of cancer too", which featured posters based on the designs of cigarette packets. The work won a Campaign Big Award for agency Anomaly in October.
Cancer Research UK won a live vote of more than 500 senior marketers from a shortlist of five brands, with the others being Carlsberg, KFC, Lucozade Sport and Nationwide.
They had been chosen from an initial list of 20, which also included the likes of Channel 4, Virgin Atlantic and last year's winner Bodyform.
The most iconic brand
To mark the 60th anniversary of The Marketing Society, attendees also voted for the most iconic brand of the past six decades, supported by Deloitte Digital, with Coca-Cola emerging victorious.
An initial list of 60 brands, one chosen for each year, was whittled down to five, with John Lewis & Partners, IBM, easyJet and Channel 4 also making the shortlist.
Gemma Greaves, chief executive The Marketing Society, said: "It's no surprise that Coca-Cola has been voted Most Iconic Brand of the past 60 years. Its name is synonymous with creativity and innovation and it just goes to prove that with a brave approach and a willingness to adapt, great brands really can stand the test of time.
"I'm also delighted that Cancer Research UK is our 2019 Brave Brand of the Year – another brilliant brand that, by combining marketing excellence with bold creative solutions, stood out from the competition. I'm so proud of our industry's resilience in these uncertain times and tonight was the perfect way to celebrate its many achievements together."