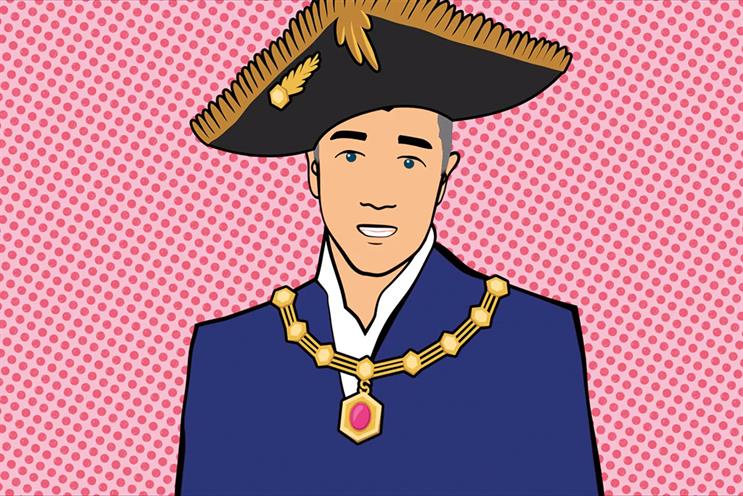 When Campaign spoke to Ivan Massow, the aspiring politician seeking the Conservative nomination to run for London mayor, he was hunting for dog poo.
He was walking his spaniel and Jack Russell in the park and they had done their business somewhere but, Massow explained, he was damned if he could find it to clean it up.
That might seem like a strange thing to chat about to a journalist. In many ways, it is. But Massow has a good reason to believe that unfiltered honesty is the best policy.
The millionaire businessman released an online video on 17 May in which a cartoon likeness tells viewers: "I'm gay, I'm an ex-alcoholic, I'm dyslexic, I'm adopted." And it's gone viral.
The video has amassed nearly 500,000 views online, as well as being featured on BBC News twice and written about on nearly every major news site in the country. Most, if not all, of this attention is down to Massow's uncommon candour.
According to Massow, the inspiration behind the campaign was Michael Mos-zynski, who runs London Advertising and worked on the Tory Party's 2005 election campaign when he was at M&C Saatchi.
"Mike was so enthusiastic," Massow says. "He took my campaign and gave me an immense confidence boost. I'm not in the contemporary mould of politicians. Hustings terrify me because I don't have that Oxbridge polish. So I wanted to explain myself through advertising."
Moszynski says his interest in Massow (his agency is working pro bono) began with an article about him in the London Evening Standard last year.
"What Ivan has said is that London's problems are a symptom of its success, and his attitude is to find entrepreneurial solutions that don't distract from the successes," Moszynski says.
"It chimed with me politically and with what I think London needs. The chief thing [behind the idea for the campaign] was that there's a growing belief that it would be good for some of our politicians to have experienced a life outside politics."
While the campaign may seem unusual, Moszynski says that it was a logical and strategic progression that came from Massow's personality. The idea to render Massow as a cartoon came from the financial services entrepreneur's love of modern art, for instance.
Hustings terrify me. I don't have that Oxbridge polish. So I wanted to explain myself through advertising
"One of the problems with politicians is they feel they need to have a lily-white background, which means you don't always attract the best candidates," Moszynski says.
"It comes from a fear of how the media will interpret things. Look at Chuka Umunna [who withdrew his bid for leadership of the Labour Party citing media scrutiny of his family]. If he had taken the approach we took with Ivan, it wouldn't have been an issue."
Despite the video's buzz – and there are no plans for a sequel – Massow knows he is still an outsider.
"Hopefully, I'll give my party an alternative option," he says. "I think it's going to be hard for me to win the nomination. But if I do win it, then I think I have a good chance of winning the election."
Massow must wait until May 2016 to find out if he has been successful but, for London Advertising at least, results have been more immediate. Off the back of the Massow video, the agency has been asked to look at several new corporate clients' social media work and there is already a politician in Hong Kong asking for the Massow treatment for his campaign.
Sam Delaney Is honesty the best policy in political advertising?

In a political landscape that is still riddled with generic doublespeak, the best way for any candidate to stand out is to say something honest in plain English.
I don't think I've seen many British political broadcasts as honest and straightforward as Ivan Massow's pitch to be the Conservative candidate for London mayor. Within the first 30 seconds, he has announced that he is a gay, dyslexic former alcoholic. As if that wasn't enough to get your attention, the whole thing is animated in a rather nifty, pop-art style. This is a political broadcast that certainly manages to cut through.
But will it work? The best British political ads have been earthy character sketches of would-be leaders. Hugh Hudson's 1987 "Kinnock: The Movie" is the classic of the genre. John Major repeated the trick in 1992 when the film director John Schlesinger followed him around his old Brixton neighbourhood with a camera. In 1997, Molly Dineen made a fly-on-the-wall film with Tony Blair, showing him playing football and bantering with his kids around the kitchen table. The aim of these films is contradictory: they need to portray the subject as ordinary and relatable; but, at the same time, show that they are strong, statesmanlike leadership material.
Massow possibly fails on both counts. The dead-cool animated execution fails to give us a sense of what this bloke is like in real life.
He tells us that he is normal; that he uses the Tube; that he hates London traffic. But he would have been better advised to have shown us a glimpse of his real life rather than just tell us about it. And while the bits about dyslexia and alcoholism might make us respect his honesty, does it mark him out as a strong, reliable leader?
The general election result reminded us that, when push comes to shove, the British public is conservative with a small "c". They always choose a safe pair of hands over the radical or the maverick.
So, top marks for attention-grabbing honesty, Ivan. But if you are serious about getting elected, you might want to drop your truth-bombs slightly more cautiously.

Sam Delaney is the author of Mad Men & Bad Men: What Happened When British Politics Met Advertising