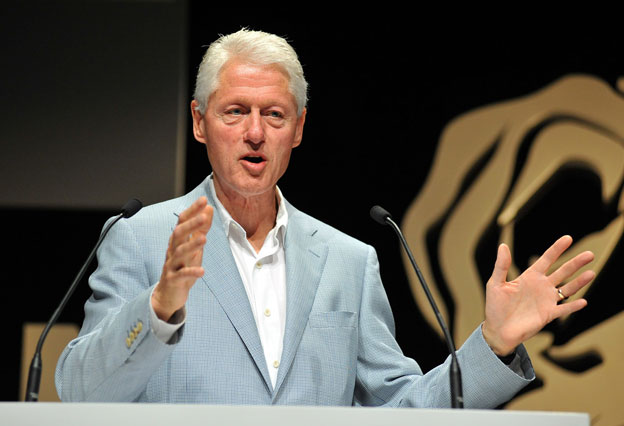 Speaking at the Cannes International Festival of Creativity, the 42nd President of the United States used the Arab Spring uprisings as evidence that what people need more than ever was "transparency, openness and creative co-operation".
He said: "As all the upheavals in the Middle East and North Africa show, the communicators will have a profound influence on how the next 20 or 30 years turns out.
"…I think it's obvious to all of you that we live in the most interdependent age in human history. That, for good or for ill, what happens in one place affects what will happen elsewhere."
In a wide-ranging speech, Clinton called on adland to use its ability to put "apparently disparate but profoundly related facts together in a simple way that explains what the issue is", adding "and then an idea of how to do something about it".
He provided examples he had witnessed first hand of how US politicians had purposefully prevented facts around climate change from being disseminated.
He pointed to the "enormous disinformation" surrounding the effects current energy usage is having on the planet, and stressed the situation is simply unsustainable.
Clinton said: "A lot of the facts that will form the trend line to the future are not apparent to people, and what citizens need more than anything else is honest synthesized intelligence.
"We can do this. But we need people like you to fire our imagination and fill our brains as well as our hearts. You know how to overcome people's inherent resistance to hearing a set of facts they hadn't imagined were true, yet are."
Clinton also called for more empathy and understanding about some of the problems facing much of the population outside of the wealthy elite.
He reminded thousands of international delegates at the festival that "by far the most important discovery of the sequencing of the human genome is that all of us are genetically 99.5% the same".
"So that means skin, colour, body shape, height, eye colour, even gender, every non age-related difference you can see is littered in one half of one percent of what you are biologically. Yet nearly everyone on earth spends 99.5% of their time worrying about the 0.5% of themselves that is different to everybody else.
"And some of you can make a good living off of that."
The 65-year-old is attempting to be an agent of change himself through his Clinton Global Initiative, and praised Cannes Lions partnership with the Bill & Melinda Gates Foundation established in February, based on a similar "communications challenge to change the world".
Believing hope lies in social networks of openness, diversity and dialogue, he asked "how many times do you come up with a good ad by sitting around the table and talking about it?
"In a complex world in a lot of variables there is wisdom in diversity. And differences of opinion are important actually, but they only work if the goal is to reach an agreement."
Turning to Europe, Clinton asked what could be done to help re-address some of the negativity surrounding Greece as it battles to stay within the Eurozone.
He said: "Greece has one of the greatest civilisations in history, and I hear all sorts of disparaging remarks… the average Greek working week is longer than the European average.
"We need to figure out the image and the self-image of the Greeks," he said. "How can they break out of the shackles of their financial record and the perception that they can't cut it? They can."
Clinton ended his 50 minute address by asking those in advertising to "think about how you can both do well and do good". Adding: "I urge you to think about how we can build a world of shared prosperity and shared responsibilities, not constant conflict and winner take all."
Bill Clinton was a guest of Latin American agency Grupo ABC, which was celebrating its 10th anniversary.
Follow Arif Durrani on Twitter: @DurraniMix