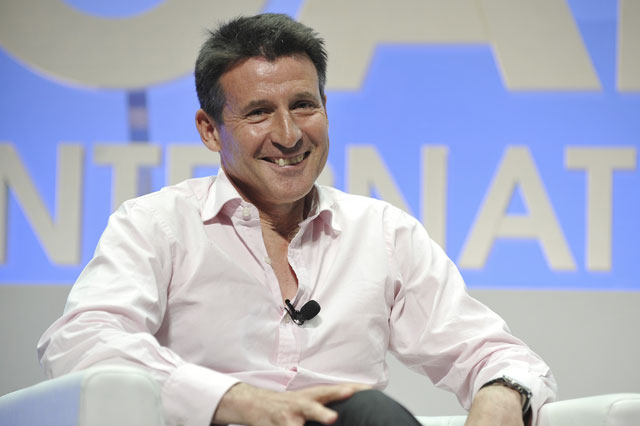 Speaking at the Cannes Lions debate with WPP's Martin Sorrell, Lord Coe called winning the bid for London 2012 Olympics a "God send" beyond anything that had been envisaged when it was made in Asia in 2005.
He estimated that more than £5-£6 billion had been pumped into British construction because of the Games, and that 40,000 people had been employed in and around the Olympic Park.
In addition, contracts that had gone to company's outside of London, like 27 Bailey bridges bought from a company in the Welsh / English borders, were credited with "not just creating but safeguarding jobs in really challenged communities".
Coe stressed: "If someone had told me in Singapore that the economy was going to do what it did with such rapidity and such violence in 2008, I would have redoubled my efforts to win the rights to stage the Games because the economic dividend has been a God send."

Lord Coe noted that he did not believe any other Games had been delivered in recent history in a more difficult environment, but assured that this summer's games remained firmly on track, "and it will deliver".

"I don't believe in my life-time I would have seen the economic regeneration and development that has taken place in east London had we come back empty-handed from Singapore," he said.

"We've seen things that have happened within the timeline, scale and the timeframe that simply, [would not have happened because] Treasury's of all political persuasions, as soon as life gets difficult, will pull the plugs on capital programmes."
In terms of long-term legacy, the 55-year-old highlighted the experience of Barcelona after it hosted the Olympics in 1992, before which it had never featured in the top 20 world tourist destinations, but ever since it had never fallen out of the top four. Today, 20% of the Catalonian city trade is said to be generated by tourism.
Sponsors praised for legacy values
The former Olympic Gold medalist reserved specific praise for the 44 sponsors of London 2012, who beyond their more than £750 million investment, were credited with being directly responsible for about three quarters of a million more kids playing sport, and six and a half million people now involved in what Lord Coe termed "life-enhancing activities".
He rebuffed criticism the Olympics had become over-commercialised as a "very easy thing to say" and reminded those who complain sport is no longer what it used to be, that it has actually grown to become centre of the socio-economic and political agenda, with legacy programmes like never before.
For the sponsors themselves, Lord Coe identified three key areas where they stand to benefit from being associated with the Games as being around business-to-business market, direct to consumer and in using it to re-engineer an organisation.
He called the support of smart world-class businesses "profound": "No organising committee alone is resourced to drive those legacy ambitions we set ourselves in Singapore."
Citing Lloyds TSB's national school sports week, Adidas building 50 AdiZones, and GE's six host borough medical ambitions, he said: "The legacy values and the ambitions that these guys have set themselves have been unbelievable."
Lord Coe also revealed Sorrell has played a lead role in forming and presenting Locog's marketing strategy and in attracting sponsors. Not only was the £750 million target exceeded, the sponsors had also been entirely reponsible for many surrounding activities, with Lord Coe noting that London 2012 would not have had the Olympic Torch Relay without them.
Asked about criticisim in the media and from some medical groups that fast food companies like McDonald's and Coke should not be sponsors of the Olympics, he said both had done an "extraordinary amount to make sport come alive in the lives of young people".
He said: "It's very easy to talk about our sponsorships of fast-foods and soft-drinks, I'm a great believer of inputs and outputs frankly."
Follow Arif Durrani on Twitter: @DurraniMix