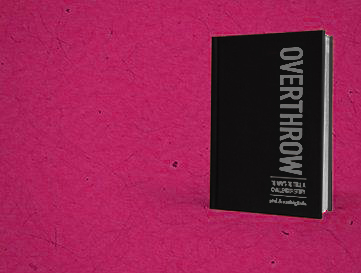 'Overthrow' details 10 challenger types in terms of what it means for a brand and what it means for an individual, and has been launched with an accompanying app, which allows people to explore what best suits individual brands and indeed personality traits.
Marketers and agencies are invited to use the model as a practical framework for those that want or need to challenge something about their category to succeed.
Whether entering a crowded category or maintaining challenger momentum once it starts to fade, the book looks at how leaders, teams and brands can structure their communication approaches in a way that drives breakthrough.
Speaking at Cannes Lions, Morgan, the author and strategist behind consultancy eatbigfish, said the conventional challenger stance of David versus Goliath in today's world, exemplified by Virgin versus British Airways or Pepsi versus Coke, is rarely the most common.
Morgan said: "Far too much of the chatter around challenger brands in the marketing world is dangerously uninformed and simplistic.
"Our ambition with PHD here is to offer a model that is both more substantive and more useful than most of the shallow soundbites that pass for critical thinking in this area."
'Overthrow' makes the case for 10 new challenger types, including The Enlightened Zagger, The Visionary, The Irreverent Maverick and the Game Changer.
Some industry luminaries that have identified their challenger type include BBH founder John Hegarty (an Enlightened Zagger), BMB founder Trevor Beattie (an Irreverent Maverick), DDB's Andrew Robertson (a Visionary) as well as Mumsnet founder Justine Roberts (a People's Champion).
The eleven chapter book draws on interviews and case studies with some of the biggest brands in business, including Paddy Power, One Laptop Per Child, Audi, Zappos and Airbnb.
Mike Cooper, worldwide chief executive of PHD, believed the new book represented a good shift with the global agency network. He said: "PHD launched in 1990 as a challenger brand - a strategic planning focused media agency when everyone else was talking about buying scale.
"So as a challenger brand ourselves, we have long been a fan of the work done in this area by Adam Morgan and his eatbigfish organisation. It's great to be partnering on the launch of this book, which offers marketers the chance to explore a new model. I'd say that PHD is a Visionary with a splash of Real & Human Challenger".
Follow Arif Durrani on Twitter: @DurraniMix