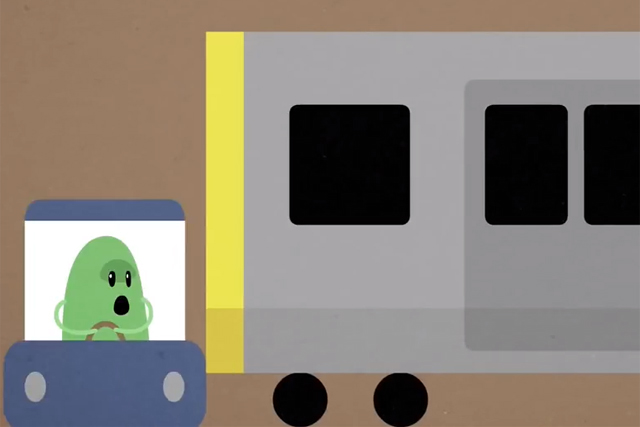 The favourites
For Grand Prix winner I reckon it's between Melbourne Metro: 'Dumb Ways to Die' and Dove: 'Real Beauty Sketches'. They are also the two most shared ads of the last 12 months.
Brand: Melbourne Metro
Agency: McCann Melbourne
This video has dominated the buzz around Cannes this year – and with good reason.
Trotting out the same train safety messages we have heard since we were in primary school was never going to be easy. But McCann Melbourne manages it perfectly with 'Dumb Ways To Die', creating a public service announcement that is silly enough to be shared, without compromising on the core message of the campaign.
Of course, there was a time when all train safety videos looked the same. Primarily designed to shock the people they were trying to protect, it would usually feature a group of friends playing near the railway, only for one to come to a sticky end.
But as advertising changes from something we avoid on TV to something we share on the internet, marketers have been forced to change their approach. After all, viewers are unlikely to share the grisly scare tactics that worked on TV, so a more sophisticated breed of warning messages was needed.
In recent years we have seen massive social video hits such as Kony 2012, the most-shared branded video of all time, and 'Your Man Reminder', which manages to make a video about breast cancer funny, sexy and informative.
However, Dumb Ways takes safety messages to a new level, using hilarious and adorable cartoon blobs, plus an earworm of a song, to help make the grim warning a little easier to swallow.
It certainly worked. With more than three-and-half million shares, making it the second most-shared branded video of the last 12 months, there is a lot more to this campaign than just cartoon carnage.
Brand: Dove, Real Beauty Sketches
Agency: Ogilvy Brazil
If the decision was based purely on statistics, Dove would already be celebrating victory. The judges may still be deciding, but the public have already made their choice.
No other ad over the last 12 months has been shared more (3.95 million and counting) and it is already the third most-shared ad of all time, behind VW's 'The Force' and TNT's' Dramatic Surprise'.
At its current rate, it could well overtake both. The pace of sharing for this campaign is unprecedented. In its first two weeks it attracted an incredible 3.17 million shares – that's more than any other ad has managed in the same period.
As well as eliciting an intense emotional responses of "warmth", "happiness" and "knowledge" from its target demographic – one of the key factors behind a video's sharing success – Dove created an inspirational video that simply had to be shared.
Why? Because anything that will make the women in your life feel better about themselves is surely worth sharing.
The dark horse
Brand: Nike, Find Your Greatness, "jogger"
Agency: Wieden+Kennedy, Portland
Nathan Sorrell may just be an overweight 12-year-old, but he was the only athlete to give Usain Bolt a run for his money during London 2012.
The undoubted star of Nike's Find Your Greatness campaign, the video of the chubby schoolkid running down a road was a refreshing antidote to the hype and razzmatazz around the supposed "greatest show on the earth".
Here's an ad for everyone who feels alienated by the Olympic spectacle and uncomfortable with so many displays of body beautiful and physical prowess.
Nike presents us with a lone chubby kid who really needs to exercise on a solitary run in the middle of nowhere, busting a gut, giving it his all.
The production values of the ad reflect the everyman values of its message and are best explained by what's missing from the usual sportswear ads: no pounding soundtrack, no flashing lights, no gleaming sports celebs, no glamour, no stadium, and no spectators.
That's because there's isn't any spectacle here, just one vulnerable kid exercising his body and exorcising his demons, finding his greatness.
This was an ad that every one of us can relate to and a kid we can all root for.
Not an official London 2012 sponsor, Nike's cheeky ambush campaign also skilfully tip-toes around the endless minefield of IOC compliance codes with all the care, diligence and skill of a Team GB gymnast.
Other contenders
Brand: Channel 4, Meet the Superhumans
Agency: 4Creative, London
Before the best Paralympics of all time had even started, broadcaster Channel 4 had given us a tantalising glimpse of what was to come with this brilliant promo.
Brand: Red Bull, Red Bull Stratos
Agency: Riedel Communications, Wuppertal, Germany
A world record attempt, an act that pushed the boundaries of human endurance to the extreme and the fear that it could all go horribly wrong at any time, Red Bull Stratos literally pushed brand marketing to new heights.