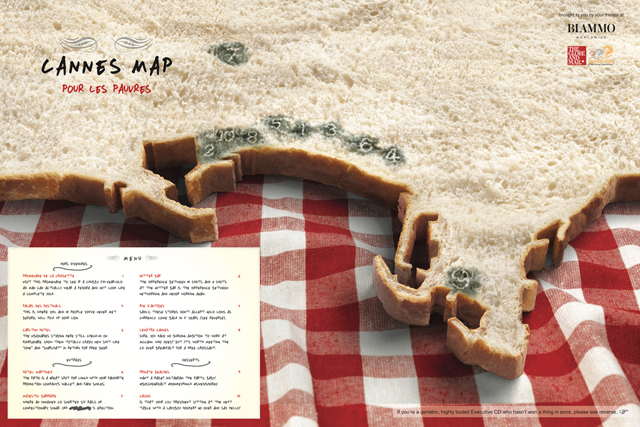 Here is the second day's roundup from our live blog Live@Cannes:
One city, two maps
These satirical maps of Cannes are one of the online gems from yesterday – one map made of meat for the "rich, past-it" creative directors, and another map made of mouldy bread for the "young, hungry creatives who do the work."
Pricey awards
The cost of Lions awards entries is big news this year. We loved Instead of Lion, a website revealing what could be bought with the money spent on Lions entries this year.
Campaign in a cab
We hopped in a taxi with Neil Dawson, the creative director of BETC London, in the first of our exclusive Cannes videos.
Shortlists aplenty
Another flurry of Cannes Lions shortlists were released, for media, mobile, press and outdoor.
Awards get started
Last night marked the first of Cannes' many awards ceremonies. In Creative Effectiveness, the UK scooped two awards, and McCann Melbourne won the Grand Prix in the PR Lions.
Black tops the charts
Jack Black spoke about robots in a seminar, which lead to him toppling Ogilvy as the most mentioned brand on Twitter.
Spotted around Cannes
Bob Geldof popped into the Havas Café, while Martha Stewart told us "I am a brand" in a video interview.
Moments of calm
The festival is manic, but we managed to capture some peaceful moments at places like the Getty Images board yesterday.
Follow news and updates live at Campaignatcannes.com