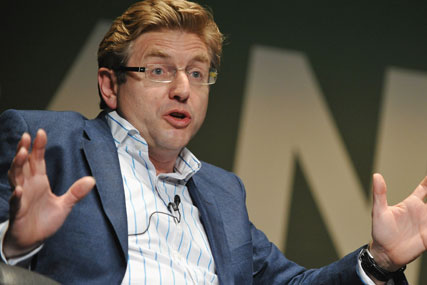 Speaking during a public debate with WPP founder and chief executive Sir Martin Sorrell on Friday (25 June), the global marketing leader said the current financial climate provided the perfect backdrop for the industry.
Weed said: "Marketing is the very thing in tough times. The finance guys of the business account for where all the money's going, the marketing guys account for where the money's coming from.
"So they're looking forward and finding out: How are we going to bring new business? How are we going to engage more consumers in the brands that we're selling?"
"So I think now is a really exciting time to get into marketing. Not just because of the digital revolution and all that's changing around it, but actually in tough economic times, that's when you have to do the best marketing."
The long-serving Unilever manager, who until 80 days ago was the executive vice president of home care, oral and water, is now the company's first marketer to sit on its executive board.
In his new role, he is responsible for in excess of $7bn worth of adspend and announced is ultimate goal as "doubling our business".
He said he intends to do this though innovation and highlighted the conglomerate's heritage.
"We did the first black and white ad on the TV. We had the first colour TV ad. We were right in there at the beginning of the iPad. And in a couple of weeks, for those of you who are engaging on Apple and iAd, we are going to be one of the first advertisers on iAd."