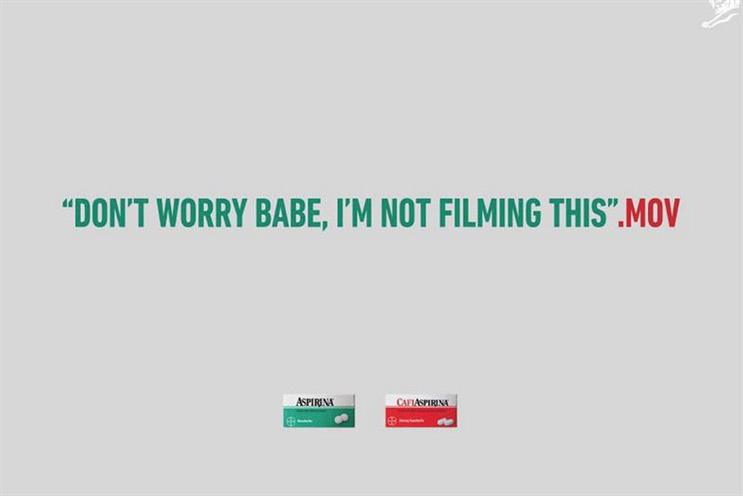 Cannes Lions woke up to the news that the UK had voted for Brexit. Attendees reacted on Twitter:
advertising doesn't really feel that important this morning. #CannesLions

— Chloe Markowicz (@chloemarkowicz) June 24, 2016
Hey #CannesLions people! If you see a Brit walking around today, give them a hug. Or a Bloody Mary. They may need it. #EURefResults

— Lou Brierley-Ingham (@Louston) June 24, 2016
Reflective mood at the @WSJ panel on Brexit this morning with discussion on what the UK's departure means for marketers #CannesLions

— Sarah Wood (@sarahfwood) June 24, 2016
Twitter blew up with criticism toward a Bayer campaign, created by AlmapBBDO in Brazil, which won two bronze Lions in the Outdoor category this week. Cindy Gallop pointed out the ad's win, with users accusing Bayer of condoning the filming of sexual activity without consent.
Don't use this to sell aspirin, male-dominated ad industry, & don't award it, male-dominated juries. #canneslions pic.twitter.com/WRo46Txygz

— Cindy Gallop (@cindygallop) June 23, 2016
Earlier this week, VaynerMedia CEO Gary Vaynerchuk apologised after an invite for a party thrown by the agency and Thrillist demanded "attractive females and models only" and directed potential attendees to send "recent untouched photos" or link to social media profiles.
Saatchi & Saatchi premiered its 26th New Directors' Showcase at Cannes yesterday, which is always an inspiring look at rising talent. This year's showreel even includes one Artificial Intelligence director, which is the result of an experiment by Saatchis and Team One to see if a machine can do the job of human creativity:
Watch the entire showreel here.
For the same cost as a gold Cannes Lion, you could save the lives of 33 malnourished children. That's the stat being promoted by a pair of BBH New York creatives, Casey Schweikert and Liz Loudy, who are encouraging Cannes winners to buy a glorified tin can, Can Gold, the proceeds of which will go to the charity Action Against Hunger.