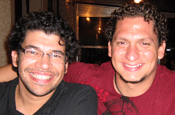 The anti-smoking spot, Guerra (War), from F/Nazca, Brazil for private health insurance firm Unimed, took the Grand Prix.

Its animated depiction of tanks, bomber planes and other motifs of war is revealed to have been created using the white or black ends of cigarettes. It carries the powerful tagline: cigarettes kill more.

The ad stood out among its competitors as Cannes-winning standard, according to international observers.

F/Nazca took home a film gold also, for Play TV (Barba), as did two other Brazilian compatriots: Leo Burnett for Lance Final (Lencol) and JWT for Ford (Sonho). Argentina's reputation is upheld by Ogilvy, which won a gold for Coca-Cola Company brand Sprite.

In cyber, one of the other most important categories, a small Mexican agency Grupo W walked away with the top prize.

It bagged the Grand Prix for Salvemos a Fermin for Unilever's male anti-perspirant brand Rexona.

The agency created a character, Fermin, around which it created stories and anecdotes online before a TV spot featuring him aired.

Consumers were driven to his site via banner ads and email blasts but, once there, were told in a teaser site that one million clicks were needed before the real site would open.

That target was reached within one week. The only reference to Rexona was in sponsorship of the site.

Grupo W, founded in Saltillo in the Coahuila region of Mexico by creative Miguel Calderon, also won two cyber golds for its only other entries - for Hershey's (La verdad sabe major) and One Club (Showdown interactive).

The most awarded agency in cyber was the Brazilian Agenciaclick, part of Aegis' Isobar since last year. Its nine-strong haul of trophies included one gold for Fiat (Cerveja/beer), three silvers and five bronzes.

Almap BBDO Brazil took one gold (Volkswagen's Prazer em Dirigir) and four silvers among its eight cyber wins.