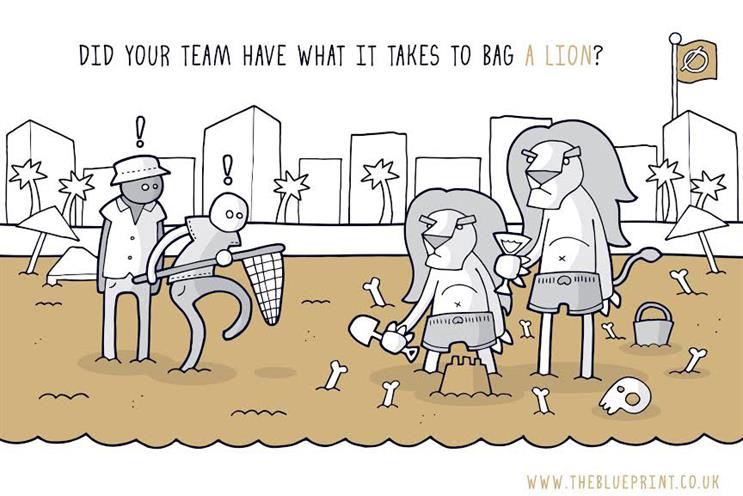 We wanted to get the lowdown on this year's Cannes Lions – an oft-derided industry gathering. But this isn't the place for negativity – we were determined to be the purveyors of positivity, insight and honesty.
We caught up with Gerard Crichlow, AMV BBDO's director of social and cultural innovation, Andre Matarazzo, Edelman's Europe ECD, Nadya Powell, Sunshine's managing director, Bo Hellberg, Edelman's UK ECD and Adam Mack, Weber Shandwick's CSO and Wayne Brown, managing director of GreyPOSSIBLE.
That's entertainment
Kicking things off in the spirit of positivity, we looked for signs proving that our industry is in good health and making positive changes. Gerard was first out the traps, noting that the Lions' addition of other "creatives" like influences as speakers, and the addition of the entertainment category, was evidence of a change for the better.
Bo Helberg agreed, adding: "The fact that tech has become invisible is a positive; it's the enabler of great ideas as opposed to the story. And of course Aline Santos' challenge to the industry to #unstereotype was a challenge of huge proportions and an issue in some part addressed in the call for greater diversity." A view that we at The Blueprint champion.
We were lucky enough to catch up with Miss Diversity herself; as one of the co-founders of The Great British Diversity Experiment, Nayda Powell is well placed to recognise signs of cultural change in the industry. She was pleased to see a shift in focus at Cannes, "away from the agency and agency business issues towards the people and the talent within it." It may be clichéd to say it, but it remains true that talent is the primary asset for any agency.
Asked what most impressed her at this year's event, Nadya echoed Gerard's view on new additions to the Cannes line up, adding: "I loved how professionally and brilliantly the first year of the Entertainment Lions went. Brilliant talks, awards and a great vibe focussed on the work, the talent and the makers." We agree, there's a real breath of freshness about it.
Accentuate the positive
Across all areas of the creative industries, there has been much talk about the need for greater purpose in business. Wayne Brown suggested that evidence of change was beginning to appear. He said of this year's event: "There was a drift back to big business doing positive things in the world. P&G especially demonstrated that you can touch people's lives, make a difference and still sell household goods in their millions."
While agency collaboration and partnering caught the eye of Andre Matarazzo, who said: "I was struck by the level of partnerships that are needed to make any of the big ideas happen – nothing that's worth talking about at Cannes, was built or developed in isolation by a single agency. It's all about collaboration and partnership. This is great to see."
Acknowledging some of the work, Adam Mack drew attention to the Innovation and Creative Data nominees: "I witnessed some incredible projects like the edible six-pack beer can rings, and the sound shirt for the deaf, both brilliantly providing indicators into how the industry is becoming as much about making physical products as we are about creative products."
There was consensus around some of the high-profile guest presenters and speakers with special notes going to Will Smith's keynote, a Gwen Stefani live ad break and a more grounded – but no less impressive – talk by Adam Grant, author and professor at Wharton University. He has spent years studying and researching habits of original thinkers and written a book about "non-confirms", a highlight for Bo Hellberg.
Gerard saw John Hegarty as the real industry rock star. "There are certain people who are rock stars for a reason." he said. "Every time he [Hegarty] speaks you know why he's achieved all he has. His recognition of the changing nature of advertising made him a brilliant choice to chair the integrated category."
Alongside the industry rock-stars and the actual rock stars was astronaut, doctor, dancer and general visionary Mae Jemison, who talked about the 100 Year Starship programme she heads – an inspirational highlight, according to Mack.
Social, networking
Celebrity awe aside, there were also questions over the value and insight that a Will Smith or Iggy Pop can bring to an industry event. A common complaint was that many of the seminars are still at a shallow level considering the global talent who flock to the event. Wayne Brown from Grey also questioned the expense. He said: "The price of a ticket is ridiculous. I would never buy one. I would much rather spend our budget on SXSW."
But back to being purveyors of positivity – to appraise the Cannes Lions and not talk about massive corporate parties and the money earnestly spent on liver damage would be half-baked or at best half-cut.
The party scene and evening networking economy is as much a part of Cannes as the awards, the boats, the businessmen in shorts and the keynote speeches. Accolades for the evening entertainment went to Finger Music, VICE, Contagious and as ever the Media Monks massive bash.