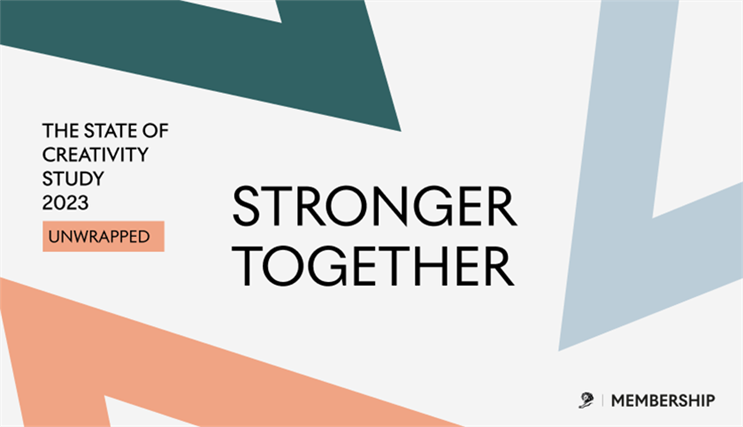 The hotly-anticipated third edition of the Lions State of Creativity Study finds that the majority of marketers and creatives believe having a clear vision and strategy for how creativity can be harnessed by the company is of critical importance. However, the majority of leaders don't believe their leadership in this area is effective.
This is just one of the findings from Lions' latest global study, which presents exclusive insights and data from over 2,400 marketers and creatives across 102 countries. It highlights the priorities, challenges and opportunities facing the industry right now, including a deep dive on how leaders can build the right internal conditions for creative success.
Delivering a creative culture
The study shows that marketers and creatives agree that having a clear vision and strategy to harness creativity is paramount for business success, yet less than half of respondents feel confident in their leadership ability to deliver a creative culture. For creativity to flourish, leaders and employees need tools, methods and training: from collaboration across teams to making time to celebrate success and learn from failures.
According to 63% of brands and agencies, strategic thinking is the most important area for upskilling the workforce in 2023. Creative success means business success, so marketers must learn to see creativity as a discipline - and defend it with rigour.


Recession proofing for 2023
'Rising inflation and cost of living' was the number one biggest challenge for 54% of brands and creative partners when it came to external factors in 2023. This was followed closely by 'media and audience fragmentation', 'changing consumer habits' and 'skills shortages and talent recruitment'.
In a year of economic uncertainty, it's important to double down on the business case for creativity. The industry is nervous. Economic uncertainty leads to budget restrictions, which in many cases means cutbacks, redundancies and short-termism. There is confidence in the idea that creativity is the way forward, but also pressure to deliver revenue, quickly.


Top trends shaping the creative industry
The study also reveals four trends set to power creative impact and growth, along with an action plan to leverage them for success.
Balancing the long and the short by introducing brand-building devices into short-term activations.
Forging deeper collaborations with the creator community.
Instilling best practice approaches across the marketing organisation, which set firm foundations for great creativity to flourish.
Building a happy relationship with AI to amplify human capabilities.
Takeaways
Top takeaways, found within the report, provide insight on steps marketers and creatives can take to get ahead in 2023.

Enhance creativity with structure. Some argue that structure and systems stifle creativity, saying it takes away the freedom to be innovative. But this study shows that as creative budgets and delivery timeframes get squeezed, people need order to let creative excellence thrive.

Creative leaders are the link between creativity and structure. It's their responsibility to ensure teams are working efficiently to benefit creative output.

Make space for new ideas. As leaders start "focussing on processes to keep control of the workflow" they open up more opportunities for sharing.

Inject more brand-building devices into your short-term activations. Consider how to make your short-term tactics work harder by bringing in elements of brand-building into them.
"Creativity is at a crossroads. With the rise of technology and data, marketers are expected to be more tactical and exact in every brand action, however bold. And bold creativity requires guts. In the coming years, we'll see how data, technology, and guts fall into balance."
Brand manager, food & drink sector (US)
Read the report to learn what's preoccupying the industry right now, what's influencing the state of creativity around the world and how creativity is being used most effectively.
The report is published by LIONS Advisory - helping brands around the world build the foundations for creative excellence and effectiveness - setting the conditions for creativity that fuels growth. To find out how LIONS Advisory can help you transform your business, go to: lionscreativity.com/advisory